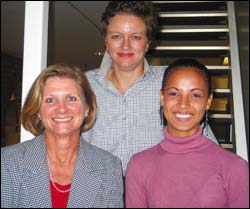 Efficient employee: This week's Five-Star Staffer Sue Wright (left) with colleagues Rochelle le Roux (middle) and Meagan Williams.
Besides being a great stress reliever, long-distance running gives Sue Wright the opportunity to process her thoughts and the stamina to tackle office crises.
And it is this ability to efficiently process her thoughts and prioritise various tasks that has earned the administrative assistant from the law faculty's Institute of Development and Labour Law Five-Star Staffer kudos.
Wright believes that taking part in over 30 marathons, including Comrades and numerous Two Oceans, has helped her cope when it comes to her work.
"When I'm running, I tend to think about work issues and organise things in my mind," she explained. "Then when I'm back in the office I can easily solve problems that have arisen."
Nominated by her director, Professor Evance Kalula, and other colleagues, Wright is praised for her attention to detail.
"Sue is absolutely wonderful - I would give her ten stars if I could. I travel a lot so her efficiency helps me to keep the show on the road while I'm away and to manage my time and diary smoothly when I'm back in the office," said Kalula.
Wright's keen sense of humour and grace has also not gone unnoticed.
Said colleague Rochelle le Roux: "We are very privileged to have Sue in our midst. Not only can she cope gracefully in a crisis (and we have a lot), but she is also the best travel agent, conference organiser, editor, student counsellor and public relations officer around."
Going into her 20th year at UCT and having spent most of this time in the law faculty (she had a brief stint in commerce), Wright is 100% au fait with the legal profession and research activities undertaken by the institute.
"I find the legal environment very stimulating," she said. "Not only does the faculty produce quality graduates, but many legal policies are initiated here. Once implemented, these make a significant difference to the lives of many South Africans and it is satisfying to know that one has contributed in a small way."
In addition to her administrative duties, Wright also acts as a mentor - she is responsible for providing secretarial and personal assistant training - to one of two Services SETA learners in the law faculty.
Asked how she manages to balance her various roles, Wright holds up a hardcover, A4 exercise book filled with "to do" lists.
"I don't rely completely on technology. Our record keeping and follow-up system work well. This, together with supportive and nurturing colleagues, helps us all to succeed."
(To nominate a Five-Star Staffer, please e-mail Helen Théron.)
---
This work is licensed under a Creative Commons Attribution-NoDerivatives 4.0 International License.
Please view the republishing articles page for more information.
---