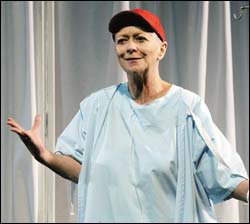 Jacqui Singer in a scene from Wit, now on at the Baxter.
GSB course heralds next phase in black economic empowerment
The GSB is running a course in June that heralds the next phase of black economic empowerment (BEE) in South Africa.
The course will focus on making BEE a working reality in South African businesses, moving away from simply understanding BEE policy and theory towards successful implementation.
Course convenor Loyiso Mbabane said even though the nation is celebrating 10 years of democracy, there are still only a handful of companies successfully implementing broad-based BEE and many still did not understand the real issues or how to develop a strategy and begin implementation.
"It is crucial that South Africa takes the next step up from policy-making - which has dominated the BEE debate for some time - and focuses on top level empowerment in organisations, to broad-based BEE strategy and implementation.
"South Africa's first decade of democracy was about transition, this decade must be about broad-based black economic empowerment if our democracy is to really take root," he said.
In addition to tackling core concepts like BEE economics, the course, which runs from June 10-11, will also use case studies on the application of BEE and look at lessons from other countries, such as the Malaysian model. This provides a critical overview of what works and what doesn't.
"As the leading academic institute driving BEE education and research in South Africa, we have a duty to ensure there is sustained in-depth research, analysis and best-practice development on BEE," he said.
For more information on the BEE course, contact Lucille Roberts on 406 1324 or e-mail lucilleh@gsb.uct.ac.za.
WIT on at the Baxter
Jacqui Singer, a UCT alumnus and currently a lecturer in the drama department, stars as English professor Dr Vivian Bearing in Margaret Edson's 1999 Pulitzer Prize-winning play WIT, which is on at the Baxter until May 29. When Bearing is diagnosed with advanced ovarian cancer, she is faced with her biggest and most complex challenge - mortality. Confident of her ability to stay in control of events, she brings to her illness the same intensely rational and methodical approach that has guided her academic career. Performances are Tuesdays to Saturdays at 20h00. Ticket prices are R60, Tuesdays to Thursdays, and R70, Fridays and Saturdays. Book through Computicket (www.computicket.co.za) or at the Baxter, 685 7880. Discounts for UCT staff, senior citizens and block bookings of 10 or more are available from Tuesdays to Thursdays only. These are R40. Students with valid student cards pay R35 at the Baxter box office, one hour prior to the performance. For further information contact Berniece Friedman on tel 434 4951 or e-mail bernfried@kingsley.co.za.
---
This work is licensed under a Creative Commons Attribution-NoDerivatives 4.0 International License.
Please view the republishing articles page for more information.
---