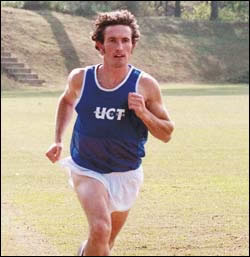 A ten-kilometre run, a 40km cycle and another five-kilometre run is what environmental management master's student Iain Don-Wauchope has to look forward to when he takes part in the World Duathlon Championships in Belgium later this month.
Similar in structure to a triathlon, Don-Wauchope will have to tackle each leg of the event one after the other, easing through the transition periods as quickly as possible if he is to be the bellwether among his competitors.
"I train six times a week, sometimes twice a day, in order to get my muscles used to the conversion between the running and cycling," explained Don-Wauchope, who also works as a spinning instructor at local gyms three times a week.
The super-fit athlete will join his 40 South African team members in Belgium after winning both the Western Province and South African Championships (25-29 age group) earlier this year - a remarkable achievement for someone who only started competing in triathlons in October last year and duathlons in March 2004.
Originally from KwaZulu-Natal, Don-Wauchope was awarded a running scholarship, which saw him complete his undergraduate studies in civil engineering in the United States.
"I have always run a lot and, coupled with a keen interest in off-road adventure racing, which can include any activity such as kayaking, rafting, swimming and obstacles (rope bridges and river crossings), I simply decided to change direction and get into duathlons."
Asked about the possibility of taking top honours at the international event, Don-Wauchope said he believed he was in with a chance.
"I won the SA Champs by five minutes overall and my age group by eight minutes so I would like to place in the top three overseas. But having said that, I have never competed at this level before and am just going over there to enjoy the experience and if I do well that will be a bonus."
Taking the title will also ease the sportsman's desire to break into the international, semi-professional arena - a domain dominated by lucrative sponsorship deals and the possibility of working with a good team.
But for now, the amateur, who doesn't even have his own bicycle and borrows one from a friend, must return to the drawing board in an attempt to raise funds for his trip. A much-needed R10 000 sponsorship will secure his attendance at the event.
"Once the competition is over I plan to go to the United Kingdom, where I will finish an individual paper to complete my master's. Then I will try to find a job in my field and keep the weekends free for racing."
---
This work is licensed under a Creative Commons Attribution-NoDerivatives 4.0 International License.
Please view the republishing articles page for more information.
---