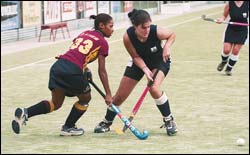 The getaway: UCT's Jenna Snodgrass (right) gives Vida Ryan of Victorians the slip in UCT's 6-2 win over their Stellenbosch rivals.
For many UCT sports teams, the weekend of April 17 and 18 signalled the start to their 2004 seasons. Monday Paper was there for some of the games, and here offers a summary of a selection of matches, in alphabetical order.
Hockey - men
Last year, the men's first side made a near-clean sweep of all the silverware on offer - they were WP indoor champions, league winners and, officially, the best club team in the country when they bagged the Club Champion of Champions title in September. In the WP league contest, especially, it was clear that they were streets ahead of everyone else.
But things have changed since then. Over the past months, as players graduated and moved on, the side has lost six of its most senior players, all who had represented either WP and/or the SA national team. "This year, we're straight back in the mix with everybody else," reflected coach Pierre le Roux, a lecturer in the Faculty of Engineering and the Built Environment who will also coach the WP senior side this year. "There's no clear-cut distinction between us and everyone else - on any given day, we can lose as easily as win a game."
Which is why the side's season-opener against Western Province Cricket Club (WPCC) on Sunday, April 18, was of such interest to coach, players, fans and rivals. And why their commanding 3-1 win - with goals courtesy of Sean Thomson, Dave du Preez and Ian Parsons - was so impressive. "We were superb," summarised Le Roux.
But the side will have to keep up this kind of form for the rest of the year. Le Roux believes, however, that youngsters like Paul Blake, Craig Ross, Adam Wilson and Matthew McConkey, all SA under-21s, are ready to step into the breach. And they're set on retaining their league title. "Even though we lost players, we have built a spirit and an ethic among the players, and they won't accept anything less," noted Le Roux.
"Realistically, it's going to be very hard, but we're still going to try."
Hockey - women
The women's hockey first team started their 2004 league-title bid like a house on fire, trouncing a very useful Victorians side (a sort of Maties second team) 6-2 at the University of Stellenbosch on Saturday, April 17.
Player-coach Kerry Bee netted two for UCT, as did her national side teammate and UCT debutante, Liesel Dorothy. Natalie le Brun and Tammy Kruger rounded off the rout.
A stunning start to the season (replete with bonus point for scoring more than three goals), agreed Bee. "We were ready for this game," she said. "Even when we went down a goal early in the game, we still had the confidence that we could pull it back."
And confidence will be a big factor this season, especially as Bee and Dorothy are expected to miss most of the season owing to a full national roster. Players like Le Brun, who was recently selected for the WP senior squad alongside Bee and Dorothy, as well as WP B caps Kruger, Sarah George, Leshane Luscombe, Jacinta Rodriques (who joined UCT from Stellenbosch this year), Robyn Silverstone and Jenna Snodgrass will have to shoulder the side's title ambitions, added Bee. "The players know they're the top dogs when the national players aren't there, and I think they cope with the responsibility really well. They've got the confidence."
Importantly, UCT will have to keep winning their matches against the weaker sides, regardless of their results against the big guns like Stellenbosch and Somerset West, if it is to match or improve on its 2003 league placing, a third spot, Bee noted. "We want to be contenders. But you have to play consistently the whole year - you can't beat Stellenbosch the one week and then lose against one of the lower teams the next.
"You can lose two or three games for the season, but you must make up for that by picking up bonus points against the weaker teams."
Netball
For their 2004 Super League bow - it's their first year back in the top flight - the women's A side suffered a baptism of fire. Their opponents on the day sported a few bits and pieces not usually found on the netball court - prominent Adam's Apples, chest hair, little things like that.
The side went up against Bellville Strikers, one of the only two men's teams in the league (until more men's squads are founded, the Strikers play all the Super League women's sides, although not for points or laurels). And while, for the first few minutes of the first quarter, the UCT players jockeyed as hard for the ball as their rivals and stayed in sight of the Strikers' score, it soon became apparent that they were punching well above their weight.
The Strikers used their greater speed, strength (a couple of UCT players went home that evening with a few unwonted bumps and bruises) and agility to good advantage, and ran out easy 58-23 winners. But UCT coach Alfreda Luyt believes her players learnt a few things from their rivals, who often get approached by Super League sides for training matches.
"It's really good to play against them because they have absolutely fantastic netball skills," said Luyt.
And skill is going to come in handy if UCT is to offer a serious challenge for league honours this season. The side, peppered with provincial caps, remains mostly unchanged from last year's - goal-shooter Hilda-Mart du Toit is about the only addition - which means that the team is a settled one.
"I think we compare very well with the rest of the teams," noted Luyt. "We can give them all a run for their money."
Rugby
Over recent years, UCT teams have found that community sides, like those from Mitchell's Plain and Bellville-South, are notoriously hard nuts to crack, the sight of "the University boys" seeming to spur these sides on to greater effort. Victories and points against these teams - regardless how lowly their fortunes in the league - are rare and, when they do come, hard-won.
Which is why the FNB UCT first team will consider the five points from its 31-24 win over Bellville Tech - four for the win, one bonus point for the fourth of their five tries - as cherished mementos from its travels to the Rosina Paarwater Stadium in Bellville-South on Saturday, April 17.
Trailing 5-14 well into the second half, UCT clawed their way back into the game, eventually enjoying a 24-17 lead that had Bellville Tech's ever-boisterous fans grinding their teeth. The home team drew level (24-24) late in the game, and sensing an eleventh-hour victory, staged one attack after the other on the UCT tryline. And just when it seemed inevitable that their exertions would be rewarded, a turnover ball allowed the UCT backline to run the ball from just outside their own 22-metre line and let Kaya Sontsele in for a five-pointer that broke the Bellville Tech hearts. The referee whistled the game to an end immediately after Miles Brown's conversion.
"A draw would have been a good result," observed Dr Cecil Moss, president of the UCT Rugby Club, to a colleague after the contest.
---
This work is licensed under a Creative Commons Attribution-NoDerivatives 4.0 International License.
Please view the republishing articles page for more information.
---