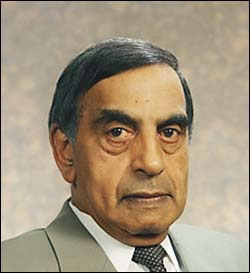 Christina Pather, new manager, research and information
UCT alumnus and former Minister of Justice Dullah Omar died in Cape Town last week at the age of 69.
Omar graduated with a Bachelor of Arts degree in 1955 and a Bachelor of Law degree in 1957. He received a doctorate in law from the University of Durban-Westville.
Professor Hugh Corder, Dean of Law, said that Omar actively and courageously pursued justice, both as a legal practitioner and a leader of civil society.
"His role in raising awareness in the attorneys and advocates profession and in the formation of the National Association of Democratic Lawyers (Nadel) is widely known. As too, his detention without trial, which led to the landmark state of emergency case in 1987 in which the then Appellate Division succumbed meekly in the face of executive lawlessness.
"Such events served to strengthen his resolve to ensure the protection of fair process and basic rights, which made him an ideal first Minister of Justice, post-apartheid," Corder added.
Omar played a hands-on role in drafting legislation that established the Truth and Reconciliation Commission and governed the amnesty process. In 1997, he tabled the law that abolished the death penalty after the Constitutional Court ruled it was unconstitutional. He was also influential in drafting the Constitution and the Bill of Rights.
From the mid-1980s, Omar maintained good relations with the faculty, facilitated by the fact that one of his sisters was the law librarian and one of his daughters a student here.
Corder pointed out that Omar willingly accepted an invitation to be a member of the advisory board, constituted for the faculty's development campaign last year, despite his ill health. "We will miss the sage advice which he would undoubtedly have given. We join many others in mourning the passing of this gentle man of the law."
Omar is survived by his wife, Farieda, and his three children.
Dullah Omar died in Cape Town last week.
---
This work is licensed under a Creative Commons Attribution-NoDerivatives 4.0 International License.
Please view the republishing articles page for more information.
---