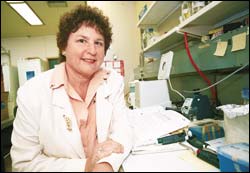 Honour in Paris: Awardee Prof Jennifer Thomson (molecular and cell biology)
UCT biotechnologist Professor Jennifer Thomson has won yet another laurel in the scientific arena, claiming this year's L'Oreal UNESCO For Women in Science award for Africa.
She was one of five women - each representing a continent - honoured in Paris last Monday for their groundbreaking contributions to scientific progress. A delighted Thomson collected a purse of US$100 000, which she plans to use for travel and research, both for herself and her students.
It was her work in the development of transgenic plants' resistance to viral infections, drought and other risks that impressed the selectors, an international jury of 15, presided over by 1974 Nobel laureate in medicine, Professor Christian Duve.
At last week's awards, Thomson found herself in esteemed company. Her co-winners were Professsor Nancy Ip, who took the Asia-Pacific honours for her discoveries on the molecular control of growth, differentiation and synapse formation in the nervous system; Europe's Professor Christine Petit for her elucidation of the genetic defects in hereditary deafness and other sensory disorders; Latin America's Professor Lucia Mendonça-Previato for her achievements in field of the Chagas disease (a parasitic disease found only in this part of the world), and the United States' Professor Phillippa Marrack for her characterisation of the functions of T lymphocytes in immunity and the discovery of superantigens.
The For Women in Science award is a joint project by the cosmetics giant and the United Nations Educational, Scientific and Cultural Organisation to promote and recognise scientific research by women. Wits University's Professor Valérie Mizrahi was the first South African to collect the award in 2002.
Two other African women scientists - from Nigeria and Tanzania - received laureates, each earning US$20 000 to further their studies in life sciences (the awards alternate, every second year these are given to candidates in the physical sciences). DVC for research and innovation Professor Cheryl de la Rey extolled Thomson as a "superb role model for women".
"For UCT, this is another welcome and well-deserved award for the corps of exceptional women scientists on our campus. I am pleased that we are seeing and increasing public recognition for their contribution to science and technology."
In an e-mail from Paris after she had delivered her scientific presentation to the jury, Thomson said the recognition would give her an "enormous" international boost. She urged young women in science to "keep climbing, the future is bright".
Earlier this year Thomson made the news as one of four finalists in the South African Department of Science and Technology's annual Distinguished Woman Scientist awards.
Trained as a molecular biologist and one of UCT's National Research Foundation-rated academics, she has been described as a scientist with an "impeccable international pedigree".
The L'Oreal UNESCO conferment follows a string of international honours. At the end of 2002, Thomson delivered an address on genetically modified foods for developing nations to a full sitting of the United Nations, part of a series of lectures hosted by Secretary General Kofi Annan in New York.
Last year her reputable book Genes for Africa: Genetically Modified Crops in the Developing World, was short-listed for the Alan Paton Award for Non-Fiction. She is also the co-founder and former chair of South African Women in Science and Engineering (SAWISE) to promote women in the fields.
According to UNESCO, women remain under-represented in the scientific professions, gleaning less support and fewer promotions than their male peers. New research from the organisation's Montreal-based Institute of Statistics confirms these findings.
In Japan for example, 18% of postgraduates are women, the figure dropping to 15% in New Zealand and then rising steeply to 38% in Turkey. Figures are more heartening in Latin America, surprisingly, where in El Salvador for instance, women account for 60% of science and technology graduates and 59% in Argentina.
In Paris, Thomson seemed unfazed by the media interest in her award back home. What's next on her agenda?
"More of the same!"
---
This work is licensed under a Creative Commons Attribution-NoDerivatives 4.0 International License.
Please view the republishing articles page for more information.
---