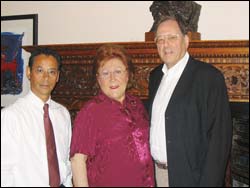 Human capital: Assoc Prof Franklin Larey (left) with benefactors Agi and Simon Alexander.
Punters would relish the canny knack alumni Simon Alexander has in backing winners, albeit unknowingly.
In 1994, the benefactor started a fund to help needy students, a modest sum which has assisted jazz great Selaelo Selota and opera singer Lionel Mkhwanazi live their dreams. Both arrived at UCT with little more than talent and ambition. Both needed financial aid to graduate. Their good fortune started with a sixpence-a-day back in 1929 when Alexander's mother, Leah Gamsa, was a music student at UCT.
A talented pianist, Gamsa survived on sixpence a day (half a shilling to those who still remember pounds and pence), enough to buy lunch or catch a bus from the Gardens to the College of Music. She would not have graduated - or played at the City Hall - without it and her determination inspired Alexander, decades later, to make a small bequest to help an equally needy student.
A UCT-trained architect, now living in England, Alexander initially put forward R10 000, which produced a stipend of R700 a year. He named the fund the Leah Gamsa Sixpence Award as a tribute to his inspirational, Latvian-born mother.
Fleeing the fascists in Latvia, she had arrived in South Africa in the late 1920s, following three siblings. Arriving unannounced and without a landing fee, Alexander says his mother was fortunate she wasn't sent back. The understanding immigration officials even managed to contact her family.
"She was penniless and an anonymous benefactor made her graduation possible," he noted. For Alexander, the Leah Gamsa Sixpence Award also became the alternative to his "youthful dream" of becoming rich enough to make a major bequest to UCT's health sciences faculty to find a cure for (mental) depression that beset his mother.
Selaelo has gone on to make a big name for himself in jazz circles. Mkhwanazi was one of three College of Music students recruited by Professor Barbara Hill Moore of Southern Methodist University in Dallas to take their master's degrees abroad.
In 1999, Mkhwanazi's letter to his "donors" inspired Alexander's cousin, Simon Gamsa, to contribute and they both added another R10 000 to the fund. (Gamsa is a UCT-trained engineer and is now retired in Montreal.)
"Lionel wrote that he was born in Soweto of a single parent family and was the youngest of three children. He thanks his donors for sponsoring him at UCT, stating that without this help he may have been unable to continue his studies."
Last year the Alexanders heard Mhkhwanazi sing in Dallas.
"As opera lovers, he brought tears and goose-bumps," they said.
During their visit to UCT in December, Alexander and his wife, Agi, said two more family members, the sisters of the two cousins, would also contribute to the fund, increasing the capital amount to R50 000. The aim is to double this figure in the next two years, to assist several students simultaneously.
Now retired, Alexander, who is a governor of a college of further education in a deprived area in North London, is keen to dispel the myth that a pot of money is necessary to sponsor a bursary.
"Even the smallest amount can help."
And they are thrilled that the university has chosen students who have gone on to capitalise on their opportunities.
There's a strong echo somewhere of Alexander's favourite credo, borrowed from Louis Pasteur: "Chance favours the prepared mind".
(Simon Alexander's aunt is the renowned Ray Alexander Simons, who was married to Jack Simons.)
---
This work is licensed under a Creative Commons Attribution-NoDerivatives 4.0 International License.
Please view the republishing articles page for more information.
---