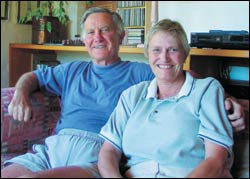 Emer Prof Cecil Bloch and his wife, Sue. Bloch will cap his daughter Kate.
Even a debilitating back injury could not stop Emeritus Professor Cecil Bloch from capping his ninth child at UCT.
Yes, you read it right. His ninth child, Kate (23), will be receiving her MBChB on December 8. With all seven children from a previous marriage and two with his current wife having attended UCT from the mid-1970s, Bloch is no stranger to graduation ceremonies.
"Although the university has changed over the years, the graduation ceremonies always remain joyous and festive occasions," said the retired professor of reconstructive surgery.
"I was supposed to have a back operation last week, but I have put it off until two days after Kate's graduation. I have been to every one of my children's graduations and I wouldn't have missed this one for the world."
Bloch's long association with UCT began in 1948 when he commenced medical studies here. Having graduated in 1953, he attended his 50th anniversary reunion earlier this year.
And the ties with UCT don't stop there. Bloch's wife, Sue, was a part-time lecturer in the physiotherapy department in the 1990s.
"I was sad to retire from UCT but I'm glad that I have lived long enough to see the transformation through the terrible apartheid era to the remarkable institution it has become today," commented Bloch. Kate, the baby of the ennead, is Bloch's only offspring to follow in his medical footsteps. She will be completing her internship in Garankua next year.
The other Bloch children who have graduated from UCT are:
Nigel - MA (economics), 1977
Graeme - MA (economic history), 1980
Lance - BA honours (psychology), 1981
Guy - BBusSc honours, 1981
Hugh - MA (clinical psychology), 1986
Erica - BA, 1982
Shaun - BSocSci, 1983
Claire - BA, 1999
---
This work is licensed under a Creative Commons Attribution-NoDerivatives 4.0 International License.
Please view the republishing articles page for more information.
---