Sept 29 - Oct 5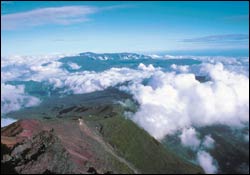 With funding from the NRF and the French Ministry of Foreign Affairs, UCT and French researchers collaborate to devise the first-ever conservation plan for Indian island La Reunion's rich plant species (above). UCT's women's soccer side selected to represent WP in the SASSU championships in December.
Oct 6 - 12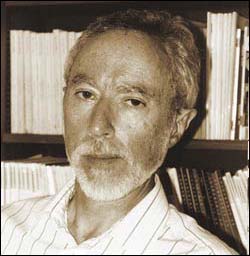 Prof JM Coetzee (above) becomes UCT's third Nobel laureate, winning the Nobel Prize for Literature, following in the footsteps of Prof Allan Cormack and Sir Aaron Klug. UCT pays tribute in an obituary to the remarkable career of renowned researcher and anaesthetist, Prof Gaisford Harrison. UCT men's hockey side sweeps all before them, winning the national Club Champion of Champions title in Pretoria.
Oct 13 - 19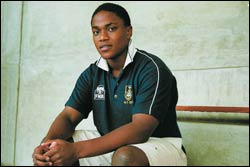 UCT's pharmacology laboratory earns South African National Accreditation System status, assuring the facility global acceptance of its drug testing results. Political analyst and businessman Frederick van Zyl Slabbert presents the TB Davie Memorial Lecture. UCT's new Rugby Club captain is Herbert Mayosi (above), a player in the U-20 A1 side. UCT's orienteering team breaks Wits' eight-year hold on the SASSU orienteering and relay competition.
Oct 20 - 26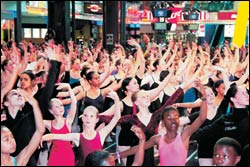 UCT dancers are among 530 participants (above) who staged a world record-breaking attempt at Canal Walk. The new SRC president for 2003/04 is Sicelo Mbambo, a third-year business science student. BMus student Jacques Terr Blanche makes it to the top three in the Idols competition. Natalie du Toit scoops the 2003 UCT Sportsperson of the Year award.
Oct 27 - Nov 2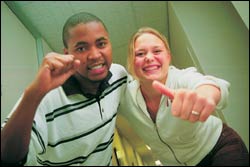 An Innovation Fund grant of R18-m provides a consortium of 135 scientists from 10 institutions with a springboard to develop novel medicines using indigenous plants and knowledge. Pharmacology's Prof Peter Folb is the project director and principal investigator. Thabiso Montyatsi and Bee Wijsenbeek (above) receive the first-ever Student Leadership Awards, the Vice-Chancellor's and Deputy Vice-Chancellor's awards, respectively. The new UCT Fellows are the Vice-Chancellor Prof Njabulo Ndebele and Prof Peter Folb.
Nov 3 - 9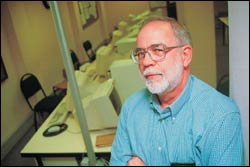 Prof Theo Stewart (above) from statistical sciences is UCT's newest A-rated researcher, becoming the 15th UCT researcher to hold this rating, following the successful re-evaluations of Profs George Ellis (mathematics) and William Bond (botany). Former Acting Principal and Professor of physics, RW James' Antarctic diary is brought into the 21st century after being retyped and reformatted by physics staffer Lesley Jennings. James was the physicist in Sir Ernest Shackleton's ill-fated Antarctic voyage aboard the Endurance.
Nov 10 - 16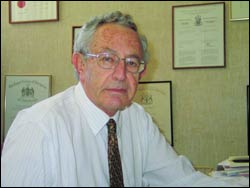 Emer Prof Sid Cywes (above) is awarded an Honorary Fellowship in the American College of Surgeons, only the third paediatric surgeon in the history of the college to be accorded this honour. Civil engineering's Ashley Muller wins the 2003 S2A3 Bronze Medal from the South African Association for the Advancement of Science, their top honour for a South African master's thesis.
Nov 17 - 23
Zoology department celebrates its centenary on November 20. Dr Mike Picker confirms that South Africa is the centre of distribution for the newest insect order, Mantophasmatodea. The new heart surgery department and an institute for cardiovascular related medical specialties are named after famous UCT son, Prof Chris Barnard. UCT bids farewell to Dr Benito Khotseng, DVC for students affairs, because of ill health. The Keswick Lucidity Prize goes to honours student in linguistics, Kirsten Morreira. The publication of the 3-D structure of a cyanide-degrading nitrilase in November's edition of
Structure
represents a major milestone in structural biology in the country and is the culmination of the inaugural year of the joint UCT/UWC master's programme. Dr Adekeye Adebajo is set to take the helm of the Centre for Conflict Resolution (CCR), follwing Laurie Nathan's resignation after 11 years to become a Visiting Fellow with the Crisis States Programme.
---
This work is licensed under a Creative Commons Attribution-NoDerivatives 4.0 International License.
Please view the republishing articles page for more information.
---