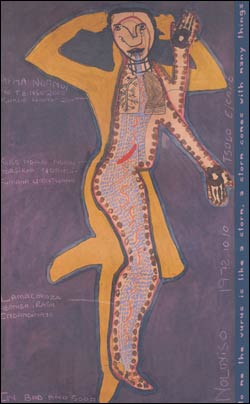 Living life positively: This is the theme of an exhibition entitled Long Life at the Iziko-SA National Gallery.
The university is commemorating World AIDS Day with a host of events, which not only highlight current debates but also indicate the depth of UCT's involvement in the battle against the pandemic.
For the week prior to World AIDS Day, UCT played host to a group of journalists sponsored by the Reuters Foundation.
The journalists, from developing nations such as Brazil, Bangladesh and across Africa, were exposed to a range of expertise at UCT. Among those who addressed them were Professor Carolyn Williamson, who is working on candidate vaccines; Ginny Volbrecht of the African Gender Institute; Laura Templeton of the HIV/AIDS Unit; Professor Nicoli Nattrass of the Department of Economics; and Professor Gary Maartens of UCT's Infectious Disease Unit.
Last Monday, Treatment Action Campaign chairman Zackie Achmat addressed the group on how the media should go about reporting on HIV/AIDS.
His remarks were widely reported in the South African media, in particular his message that the government would need all the help it could get in rolling out anti-retroviral treatment to the general population, a plan recently announced by the Cabinet.
Today, December 1, UCT plays host to a high-level panel discussion in Jameson Hall with Archbishop Desmond Tutu; Peter Piot, Director of UNAIDS; Fezeka Kuzwayo, an activist living openly with HIV; and Dr Rose Malumba, Director of HIV/AIDS and STIs in the national Department of Health.
On Saturday, Vice-Chancellor Professor Njabulo Ndebele was the guest speaker at the launch of two books with close ties to UCT.
The first of these books is
Long Life: positive HIV stories
(published by Double Storey), a collaborative project between the Memory Box Project and the Bambanani Women's Group. The Memory Box Project is the outreach programme within the AIDS and Society Research Unit at UCT, facilitated by Jonathan Morgan.
This book highlights the humanity behind the grim statistics so often cited around HIV/AIDS. It features 14 remarkable women who stepped out of the shadows of being HIV-positive to tell their personal stories through words, paintings and photographs. Central to these stories are their body maps, which are life-size depictions of their bodies, used to illustrate the narrative of their lives.
Artist Jane Solomon facilitated the body mapping with participants working in pairs. They traced their bodies onto life-sized sheets of brown cardboard. Onto these body maps they then painted representations of the HI virus, symbols of personal power and areas of other emotional significance. A shadow outline of their partner was included in each painting.
These life-size paintings are currently on display at the Annexe Building of the Iziko-SA National Gallery, and will also go on display in London and New York.
Also launched on Saturday was Professor Nicoli Nattrass's latest book,
The Moral Economy of AIDS in South Africa
(published by Cambridge University Press), which is illustrated with one of the body maps.
Director of the Centre for Social Science Research at UCT, Nattrass focuses on the moral and economic impact of AIDS in South Africa.
This book delineates the history of the AIDS policy in South Africa, gives a macroeconomic analysis of its impact, and makes a cogent argument for the expansion of treatment and intervention.
The argument made in the book was presented to the Constitutional Court as an expert affidavit in support of the Treatment Action Campaign's successful case to force government to implement the Mother to Children Transmission (MTCT) reduction programme.
Last week, Ndebele and Deputy Vice-Chancellor Professor Martin Hall also issued a statement expressing UCT's strong support for the recent statement from the Cabinet on a plan for comprehensive treatment and care for HIV/AIDS in South Africa.
They said: "UCT is one of the leading higher education institutions in the country responding to HIV and AIDS on many levels. We are producing graduates who make a meaningful contribution to addressing HIV and AIDS in a wide range of fields, including health care, basic sciences, social services, human rights and economics.
"We are committed to supporting and assisting government and their partners in the areas of training professionals in producing relevant, crucial research and targeting outreach programmes, such as patient treatment education."
Closer to home, UCT launched a website (AIDS InSite) giving more details on its Direct Aids Intervention Programme for qualifying staff. The programme provides free anti-retrovirals and case management by health professionals to infected and affected staff. To use the site go to
www.aidsinsite.co.za
. Because it is a restricted site, you will have log on every time you use it.
---
This work is licensed under a Creative Commons Attribution-NoDerivatives 4.0 International License.
Please view the republishing articles page for more information.
---