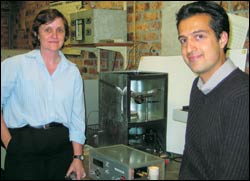 Hot stuff: Irshad Khan (right) from the Centre for Instrumentation Research of the Cape Technikon and UCT's Assoc Prof Candy Lang, whose miniature induction furnace is set to revolutionise the jewellery industry.
A miniature induction furnace, no bigger than a conventional toaster, is set to revolutionise the jewellery industry. The unique furnace, which easily heats platinum to its melting temperature of 1 800oC, is being tested at UCT's Centre for Materials Engineering.
Developed by Irshad Khan from the Centre for Instrumentation Research at the Cape Technikon, in collaboration with UCT Professor Jon Tapson, the device is being used to melt and process novel platinum alloys generated by Associate Professor Candy Lang and other researchers at the centre.
The research team includes students from the electrical and mechanical engineering departments at UCT as well as students from the electrical engineering department at the Cape Technikon.
Most manufacturing jewellers currently make use of a blowtorch to melt platinum, Khan explained.
The problem with this conventional method is that there is no control over the heat. It can also contaminate the metal and allows for only a limited amount of platinum to be melted each time.
"Our furnace uses induction heating in which a controlled high-frequency magnetic field, similar to a microwave, induces electrical currents in the platinum, resulting in rapid heating and melting," Khan added.
"By generating heat in the material itself, we have developed a system that is faster (it takes only one minute to melt platinum using the furnace compared to eight minutes using a blowtorch), cleaner and safer.
"The device also allows for a greater quantity of platinum to be melted. At the moment, jewellers can melt approximately 40 grams of platinum using a blowtorch. Our furnace can melt up to 150 grams of the metal at a time."
Khan and his team have employed groundbreaking technology to provide energy-efficient melting using single-phase (domestic) electrical supply rather than three-phase (industrial) supply. This means that while the furnace melts the platinum in less time than it takes to boil your kettle, it uses exactly the same power source.
"While gold melts at 1 000oC, melting platinum requires a lot more power," said Khan. "Our device is extraordinary because it liquefies the metal quickly without consuming a vast amount of energy. It is simply plugged into a normal plug point."
Besides it melting abilities, the team have designed the apparatus to produce high-quality platinum castings.
"Our aim with this project is to provide the small- to medium-scale manufacturing jeweller with a portable, desktop induction furnace, which can not only melt small quantities of platinum but can also cast between two to 12 rings at a time," he said.
After the platinum has been liquefied, it is then poured into a flask where a centrifugal spin-casting system distributes the metal into a mould.
Once it has cooled down, the metal is hammered out of the mould and a platinum tree (a circle of metal with branches of rings attached) is produced.
According to Khan, casting prototypes have already been tested by certain Cape Town jewellers and the system has been well received.
"We have used state-of-the-art technology to produce a user friendly system. Operating the device has been simplified so that the end user can communicate with the machine straight away."
While induction has traditionally been used to melt large quantities of steel and aluminium in the industrial sector, the newly developed furnace is unique in its ability to melt very small quantities of metal in the jewellery industry.
It is also the first tabletop system that combines both melting and casting processes.
"Another inimitable characteristic of our device is that it empowers the small-scale jeweller to produce precision castings comparable to those of their large-scale competitors. It allows them to produce a once-off ring while minimising wastage.
"The machine utilises high-speed, solid-state power semiconductor electronics, making it very efficient and reliable. It will therefore require no maintenance and there is little chance of it breaking down," Khan added.
The first complete prototype is expected to be ready for testing in industry by the end of March next year.
In another coup for the team, this UCT led project has been awarded an Innovation Fund grant of R5.6-million over the next three years.
---
This work is licensed under a Creative Commons Attribution-NoDerivatives 4.0 International License.
Please view the republishing articles page for more information.
---