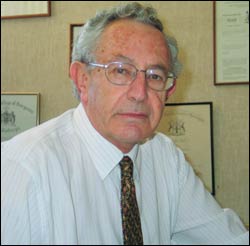 Taking top honours: Prof Sidney Cywes who has been awarded an Honorary Fellowship in the American College of Surgeons.
Emeritus Professor Sidney Cywes from UCT's department of paediatric surgery has been named as one of five surgeons to be awarded this year's Honorary Fellowship in the American College of Surgeons.
Cywes, who is also principle paediatric surgeon at the Red Cross Children's Hospital, is only the third paediatric surgeon in the history of the College to be accorded this honour.
In his citation for Cywes, Dr Bradley Rodgers said: "To review Professor Cywes' curriculum vitae is like reviewing the history of paediatric surgery. Indeed, it is the history of paediatric surgery on the African continent."
Recognised throughout the world for his studies on conjoined twins, Cywes received his undergraduate and medical training from UCT, graduating in 1953.
He continued his surgical training at the university, studying under the renowned surgeon Dr Jannie Louw.
After completing his surgical training in 1958, Cywes decided to devote his surgical practice to the care of children, thus becoming the first fulltime paediatric surgeon on the African continent.
The Red Cross War Memorial Children's Hospital, the first freestanding children's hospital in Africa, was established in Cape Town in 1956. Cywes and his colleagues insisted that this institution be fully integrated racially, even in the midst of apartheid.
He was also responsible for establishing the first neonatal intensive care unit for surgical patients and the first paediatric trauma centre in Africa at the hospital.
Cywes was a founding member of the South African Association of Paediatric Surgeons and the African Paediatric Surgical Association. He was also elected a UCT Fellow in 1987, "in recognition of original distinguished academic work of such quality to merit special recognition".
In 1992, he was awarded fellowships in the Royal College of Surgeons of Edinburgh and the following year in the Royal College of Physicians and Surgeons of Glasgow.
Over the next five years he was awarded honorary fellowship in the American Academy of Paediatrics, the American Paediatric Surgical Association, and the British Association of Paediatric Surgeons in recognition of his outstanding contributions to paediatric surgery.
Equally impressive are Cywes' horticultural achievements. He is well known internationally for the cultivation of dahlias and has won many awards in this field.
His interest subsequently turned to roses and he has served as president of the South African Society of Rose Growers. (It has been said that he has over 1 500 roses in his garden).
More recently, he has focused on a particular South African orchid species, the Disa, which had proven particularly difficult to cultivate. Not only has he mastered cultivation of these flowers but he has enhanced the species by hybridisation.
Any individual or organisation making a significant donation to the Red Cross Children's Hospital's Trust will be honoured by having one of the Disa orchid species named after them.
---
This work is licensed under a Creative Commons Attribution-NoDerivatives 4.0 International License.
Please view the republishing articles page for more information.
---