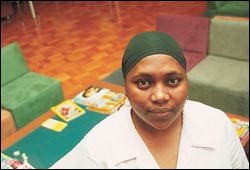 Taking charge: Zone Mdledle has been appointed as administrator of the university's Postgraduate Centre.
Zone Mdledle, formerly of the Research Office, has been appointed as the administrator of the recently-founded Postgraduate Centre in the Otto Beit Building.
Mdledle will be responsible for the day-to-day running of the facility, which includes everything from managing the postgraduate database to booking the centre's seminar room to generally making sure that the students get the best mileage out of the venue. She will also be the centre's go-between with the Postgraduate Students' Association (PGSA) executive committee.
Opened in September this year, the Postgraduate Centre was designed as a gathering place where master's and doctoral students and post-doctoral fellows could hang out, meet informally (or formally), do some web browsing on any of the 10 computer terminals at their avail, host seminars (in a well-equipped seminar room), or just catch up on some reading, among other things. The venue falls under the aegis of the Postgraduate Funding Office (PGFO), directed by Linda Vranas, and is situated adjacent to the new PGFO suite.
The centre stems from a 2001 project led by then-Senior Deputy Vice-Chancellor Professor Wieland Gevers, along with Dean of Students, Dr Loveness Kaunda, and the PGFO's Vranas. "We looked at the broader postgraduate experience," reported Vranas, " and the first thing we found - apart from the many academic issues - was that there was no sense of community for postgraduates, and that they had no space of their own."
In addition to converting the more or less abandoned site in the Otto Beit Building into a new home for the PGFO and a hearth for postgraduates, Vranas' office also helped to revive the waning PGSA, which now has bustling sub-committees in all of the academic faculties. In addition, postgraduate issues enjoy plenty of coverage on the Board of Graduate Studies, which sports both university executives and deans, among others, in its fold.
Mdledle's appointment as centre administrator is the latest move to draw postgraduate students to the locale, and nurture a sense of community among them. Mdledle will help with the PGSA's upcoming newsletter, keep in touch with students via e-mail, and jack up activity on the association's website (the link can be found on the PGFO's site at www.pgfo.uct.ac.za).
---
This work is licensed under a Creative Commons Attribution-NoDerivatives 4.0 International License.
Please view the republishing articles page for more information.
---