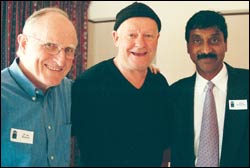 Speaking out: Photographed at the Barnard Fuller Society lunch were (from left) Emer Prof JP van Niekerk, Pieter-Dirk Uys and Prof Nicky Padayachee, Dean of the Health Sciences Faculty.
"The most sophisticated army ever to invade South Africa" is how Pieter-Dirk Uys describes the HIV/AIDS epidemic.
Always entertaining and outspoken, Uys did not watch his p's and q's when addressing the audience at the Barnard Fuller Society lunch held at the Colleges of Medicine of South Africa on October 2. The guest speaker, he urged the crowd not to be polite when it came to discussing sex with their children and grandchildren.
"Sex is killing now. It is the most natural thing in the world yet it has become the most dangerous. We have more than enough information but we must make sure that our children take out of that information what they need to protect themselves. We must educate them but we must also ensure that we give them information that they understand."
Uys, who has "trekked" throughout South Africa visiting various schools, said that he was impressed with the savvy of the country's youngsters.
"It didn't matter whether it was a smart school or a township school, it was always the same. They all share an excitement and optimism for life. If we can keep them alive the future looks promising."
Due to the non-existent response from the country's leaders, Uys said he was eager to see other South African icons, like Bafana Bafana stars, promoting sex education.
"A cure is not going to happen tomorrow. It's up to us to do something today, better still, tonight."
Named after E Barnard Fuller, who was chairman of UCT's Council from 1938 to 1945, the Barnard Fuller Society consists of medical alumni who have chosen to make a bequest to the Health Sciences Faculty.
According to Emeritus Professor JP van Niekerk, chair of the society, a bequest is a way of making a contribution to a cause that is not only vitally important but also close to the hearts of all medical alumni.
"Some of the largest and most generous contributions to the faculty in the past have been in the form of bequests. Our special 'club' provides an opportunity for medical alumni to meet with peers and renew old acquaintances. It also keeps them informed and affiliated to UCT through regular contact."
---
This work is licensed under a Creative Commons Attribution-NoDerivatives 4.0 International License.
Please view the republishing articles page for more information.
---