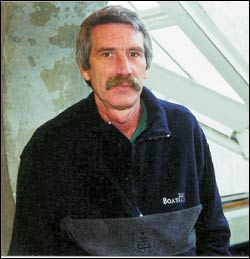 Hockey hot shot: John Donald, UCT's director of sport and recreation, is looking forward to taking some time out when he retires from the Western Province Hockey Union (WPHU) later this month. Donald has been at the helm of the WPHU for the past ten years.
After an inspiring ten-year stint at the helm of the Western Province Hockey Union (WPHU), John Donald is looking forward to more free time when he retires from the administrative body later this month.
Donald, UCT's director of sport and recreation, has been responsible for all hockey played in the province including coaching, selection, developmental programmes and facilities, since 1994.
In addition, he was also tasked with negotiating sponsorship deals as well as facilitating and mediating in disciplinary matters.
With unity in sport and transformation issues a national priority, Donald and his team continually endeavoured to make hockey accessible to all people in the province.
Asked about the highlights of his term of office, the hockey enthusiast said that the building of the Hartleyvale stadium for the pre-Olympic qualifying tournament would remain uppermost in his mind.
"Together with the excellent performance of our teams, the WPHU has, in terms of administration, frequently been voted province of the year by the South African Hockey Association," he said.
Yet a lack of sponsorship has been a problem that has constantly plagued the sport and the union.
"As hockey is not considered a spectator sport, and is not seen as a good television sport, I've had to sell the game based on the profile of the players, which doesn't always work." Although the union has made great strides, Donald believes his successor (who is yet to be named) will still have a fair amount to accomplish.
"Much like other sports, we still need to deal with issues of development and transformation," he said. "A greater link with youth hockey needs to be established and more attention must be paid to the development of umpires."
Donald started his hockey administration career in 1977 when he served on the Western Province Schools Executive Committee. In 1982 he became involved in hockey in the Eastern Province after being appointed director of sport at Rhodes University.
He served this body as vice-chair and during this period was also chair of the South African Universities Hockey Association. While president of the Western Province Hockey Association, Donald also served on the SA Hockey Association Executive Committee. He will now take some time out but remains an avid player in the "geriatrics'" league.
---
This work is licensed under a Creative Commons Attribution-NoDerivatives 4.0 International License.
Please view the republishing articles page for more information.
---