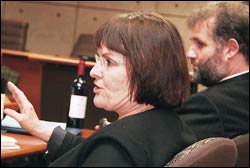 Courting compromise: Labour consultants (from left) Sarah Christie and Paul Benjamin were guest speakers at a recent seminar that debated the future of South Africa's Labour Court.
Labour consultants, scholars and trade unionists gathered at a UCT seminar two weeks ago to mull over the impact that the Superior Courts Bill, shortly to go before parliament, will have on the Labour Court and labour law in South Africa.
The Bill aims to consolidate the operations of the country's Superior Courts, that is the Constitutional Court, the Supreme Court of Appeal and the High Courts. It also proposes to do away with the Labour Court and the Labour Appeal Court, a move prompted by these courts' logistical muddles (too few suitable judges to go around, leading to conflicting judgements) and its territorial run-ins with the High Court and the Appeal Court.
Labour cases usually dealt with by the Labour Court will, once the Bill is passed, be assigned to the new High Court of South Africa (which merges all the existing High Courts). In turn, the Supreme Court of Appeal will take over Labour Appeal Court matters.
One of the points raised at the seminar, arranged by the Institute of Development and Labour Law (IDLL), was around the clashing jurisprudences of the Labour Court and the other High Courts ("fairness" versus "right and wrong").
But, said the IDLL's deputy director, Rochelle le Roux, there was some optimism that these and other snags could be dealt with easily once the Bill has been enacted.
Speakers at the seminar included labour consultants and IDLL associates Paul Benjamin and Sarah Christie, while the University of Natal's Professor Alan Rycroft chaired the meeting.
---
This work is licensed under a Creative Commons Attribution-NoDerivatives 4.0 International License.
Please view the republishing articles page for more information.
---