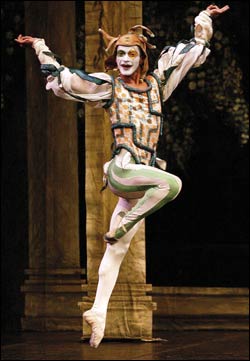 To the rescue: Manie Irving, as the palace jester in Cape Town City Ballet's Swan Lake, averted disaster with his ingenuity and quick thinking.
The opening performance of Cape Town City Ballet's Swan Lake nearly didn't happen. Disaster struck just one minute before the curtain went up when lead dancer, UCT-trained Daniel Rajna, tore a calf muscle while practising a combination of high jumps.
Had it not been for the quick thinking of fellow dancer Manie Irving, also a product of UCT's School of Dance, who managed to get Rajna strong painkillers while on stage, the performance would have been doomed and in a worst-case scenario, cancelled.
Irving, who played the role of the jester, managed to signal to someone in the wings there was a problem with Rajna's calf and that painkillers were needed.
Thankfully, act one of the ballet is set in the prince's palace and with lots of gold goblets lying around, Irving subtly passed one off-stage where the stage crew dissolved a few pills into water.
The jovial jester then returned to the stage and presented Rajna with the "wine-filled goblet".
Rajna danced the role of Siegfried, the prince who falls in love with the swan and, according to Andrew Warth of Cape Town City Ballet, this is a major role for a male dancer.
"Only very strong dancers with a sound technique would dance this role," he said.
"Daniel is both of these and has a lot of experience, which is probably what carried him through the evening. His sheer determination and the Myprodols also definitely helped."
Warth believes Rajna should have stopped dancing but it would have meant the show would have been cancelled or the company would have had to swop leading males.
"This would have meant that Daniel's partner, Tracy Li, would have had to dance with a different partner without a rehearsal," said Warth. "Daniel and Tracy have spent many hours over the past months perfecting their partnership in Swan Lake so a partner swop at the last minute would have been extremely hard for both Tracy and the new prince."
Since the fateful night, Rajna has been to the physiotherapist every day and is on a course of anti-inflammatories. The company is hoping he will be back on stage by the end of the week.
The opening night of the performance also saw dancer Johaar Mosaval being awarded a scroll of honour by Patrick McKenzie, Western Cape MEC for Arts and Culture.
The award recognised Mosaval's life in dance as the District Six-born performer who became the late Queen Mother's favourite dancer at the Royal Ballet in London.
---
This work is licensed under a Creative Commons Attribution-NoDerivatives 4.0 International License.
Please view the republishing articles page for more information.
---