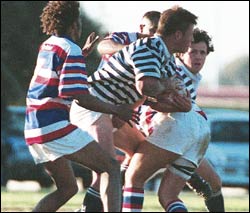 Adoring fans: Bobby Skinstad didn't get hands on ball that often during his UCT debut, but whenever he did Collegians made sure he had plenty of company.
Bobby Skinstad may have hogged the limelight on his debut for the Ikeys - as vouched by the train of newspaper photographers patrolling the sidelines - but it was the Collegians flyhalf who eventually stole the show and the game from UCT over three climactic minutes on Saturday, August 2.
Playing Collegians in Mitchell's Plain in front of their vocal home crowd - never shy to share their thoughts with opposing players and officials - is always a daunting task, and the Ikeys were probably hoping that the presence of Skinstad would inspire them to victory. But it appeared as if the Collegians players - like their fans - were the ones roused by Skinstad's celebrity status, and relished the opportunity to take him to ground (they, like the cameramen, had to wait a full 20 minutes for Skinstad to get his first touch of the ball, however).
Although Collegians were at one stage playing with only 13 men - two were sin-binned in quick succession just before half-time - UCT were unable to make any inroads into the home side's defence, and the teams went into the midway break with only three points apiece.
Fifteen minutes into the second half, UCT took the lead (8-3) through a try by fullback Anthony Knox, following a good backline movement from loose play near the Collegians goal line. Collegians reduced the margin to two points with a penalty on the half-hour mark (8-6), but it appeared that the students were going to sneak home with a hard-won victory.
Collegians flyhalf Yazeed Manuel turned the game on its head, however, when, with only three minutes left on the clock, he caressed a long-distance dropkick high and straight through the centre of the UCT goalposts (8-9). Barely a minute later, Manuel pounced on a loose ball in the UCT 22 and scurried over the line to touch down under the poles, where he was summarily swamped by celebrating fans.
Shortly after Manuel's conversion (16-8 to Collegians), the final whistle went and UCT were consigned to their umpteenth close defeat this season.
And while his performance on the field was hardly eye-catching, Skinstad proved to be as popular as ever off the field where he, along with the Collegians players, was mobbed by a horde of adoring fans. He had to be rushed to the team bus by manager Len Kaplan, but here too, as prior to the match, he had to inscribe a sea of caps and paper for autograph hunters before he and his bemused teammates could make a getaway.
---
This work is licensed under a Creative Commons Attribution-NoDerivatives 4.0 International License.
Please view the republishing articles page for more information.
---