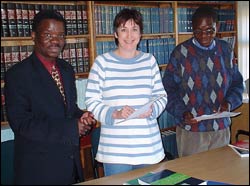 All ears: Assoc Prof Lee-Anne de la Hunt discusses text books with lecturers Emelius Dukuts (left) and Kandake Mhore from Chancellor College at the University of Malawi.
The recent week-long exchange programme between the UCT law faculty and that of Chancellor College is part of an on-going partnership between Malawi and South Africa.
The week focused on the crucial role of legal aid clinics. The host and organiser of the programme is the Director of UCT's Legal Aid Clinic, Associate Professor Lee-Anne de la Hunt, who said: "We have tried to make it as interactive as possible by combining lectures with practical sessions within our clinic and, of course, visits to our satellite clinics."
The Malawian group also participated in a Moot Court workshop, held discussions with the Street Law Student's Organisation and visited the University of the Western Cape. According to reports, the Malawian students were most impressed by the way in which UCT students handle their clients.
"Some very difficult issues were raised and the student 'lawyers' were patient, promising to ask their lecturers for answers and returning the next day with these," commented Felister Dossi.
The level of client preparation at the Athlone satellite clinic impressed another member of the group, Frank Zambezi.
"'There was an enormous number of people coming for advice and yet they were all well prepared. In Malawi, it is pretty unusual to find such an understanding of documentary evidence," he added.
Nigeria will also benefit from the high standards set by UCT's Legal Aid Clinic. Doctoral student Ada Okoye hopes that, with the experience she has gained here, she will be able to help in establishing a similar facility in her country.
"Both society and the students benefit; society because the potential to solve basic cases means that the courts are less clogged up, and the students because they learn about the practice of the law. I believe that it is up to law schools to set up these institutions as a service to the people."
UCT student Tipiwa Nkhoma confirmed this. For her, the Legal Aid Clinic is a way to help others and a way to gain experience of the real issues that will come her way during her career as an advocate.
---
This work is licensed under a Creative Commons Attribution-NoDerivatives 4.0 International License.
Please view the republishing articles page for more information.
---