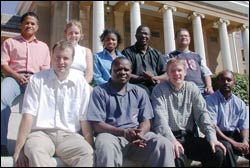 Leading the way: The nine students who have completed the course on research methods and ethics are (from left, back) Fagmie Essa, Nicola Cross, Khayakazi Mngxuma, Berholdt Mbuere and Malcolm van Harte. (From left, front) Baden Chatterton, Musa Mabila, Clinton Carter-Brown and Vijan Naidoo.
The electrification of South Africa will undoubtedly improve the quality of life of millions of people. It may, however, also result in injury or death for some of those exposed to the vast networks that deliver the electricity to the households.
Should the risks to a few people be overlooked for the greater good of South Africans? This is just one of the ethical dilemmas engineers face on a daily basis.
In an attempt to sensitise students to ethical considerations that they will face within the profession, the department of electrical engineering has included the subject in a course on research methods and ethics.
Run by Associate Professor Trevor Gaunt and Dr Andrew Wilkinson, the course aims to equip postgraduate students with the tools and approaches needed to make their research more effective and efficient.
"Undergraduate degrees never teach students how to do research," explained Gaunt. "The problem with this is that it is easy to do research badly; it is not so easy to do research well.
"Through teaching students how to plan a proposal or how to formulate a hypothesis, we are hoping to accelerate positive research experiences rather than allowing them to blunder through their research," he added.
In addition, the four-day lecture module, which ran for the first time this year with nine students, deals with the complex area of research ethics.
According to Gaunt, students need to be made aware that plagiarism includes copying someone else's ideas. In a master's programme, for example, students are required to "master" a topic without necessarily introducing new ideas. Gaunt emphasises that existing ideas must be acknowledged as belonging to someone else.
He said: "Students must possess the necessary problem solving skills to assess each situation and question what constitutes copying and what can be classified as reasonable, legitimate research.
"It's extremely gratifying to be involved in this course," Gaunt added. "We are supplying students with skills that they can use immediately, which produce effective results." Due to the success of the course, Gaunt has been approached to make a similar course available to staff members through the Young Researchers Initiative.
---
This work is licensed under a Creative Commons Attribution-NoDerivatives 4.0 International License.
Please view the republishing articles page for more information.
---