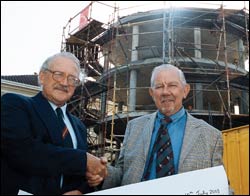 Generous boost: Individual donor Edgar Droste (right) with Prof Wieland Gevers.
The Institute of Infectious Disease and Molecular Medicine (IIDMM) received another boost to its fund-raising campaign when an individual donor from Gauteng, Edgar Droste, contributed R500 000 from the Edgar Droste Trust to the burgeoning facility (the building is progressing apace).
The donation represents the largest individual donation towards the campaign. Droste read about the Institute in the Living Treasures article, prepared by the Human Sciences Research Council (HSRC), which appeared in The Cape Argus and The Star in March.
The cheque-handover ceremony took place at the health sciences faculty's MAC Club and was also attended by IIDMM interim director, Professor Wieland Gevers, as well and UCT's Professor Lafras Steyn (medical microbiology) and the Lynne Wilson from the HSRC's Living Treasure Project.
Adressing the small assembly, Droste said his first introduction to the scientific forum UCT was creating at the IIDMM had been through the press articles featured in two of the country's leading newspapers.
"I was so impressed with your achievements and your ambition and far-sightedness to establish this scientific forum complex because of its benefit to South Africa in so many ways. Firstly, in its tackling our main disease problems HIV/AIDS, TB and others."
Droste added that he had also been encouraged by the idea of a scientific forum where scientists could interact within a single complex. He was also inspired by the notion that the IIDMM, the first institution of its kind in Africa, would serve to bring back to South Africa scientists who had left the country, as well as act as a draw card to international scientists.
"I'I have already seen articles in The Star of a wonder drug to tackle Alzheimer's (Professor Girish Kotwal), the HIV vaccine (Associate Professor Carolyn Williamson and the team). These scientists are members of your team."
However, it was the Institute's participation in and contribution to the Human Genome Project at the international scientific conference at Spier earlier this year that capped Droste's perceptions of the Institute's great value.
---
This work is licensed under a Creative Commons Attribution-NoDerivatives 4.0 International License.
Please view the republishing articles page for more information.
---