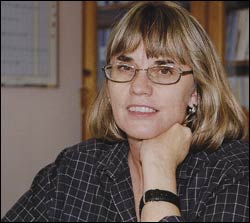 Poetic licence: Ingrid Fiske, recipient of the Herman Charles Bosman prize for English Literature, will be working on her new volume of poetry in Italy as part of her writing fellowship.
While the rest of UCT braces itself for the Cape winter, Associate Professor Ingrid Fiske is enjoying the warmer weather of the European continent.
Having been awarded a writing fellowship, Fiske is spending the month of July in a quiet, creative and uninterrupted work-space in Italy, editing and consolidating a new volume of poetry.
Fiske, from the Centre for Extra-Mural Studies, will join 10 other writers, visual artists and musicians from around the world at the Civitella Raneiri Centre near Perugia.
The Civitella Raneiri Foundation covers all transportation costs and provides the fellows with accommodation and food in a beautiful 15th century castle in Umbria as well as private studio space and an opportunity to work, with no distractions, for a month.
For Fiske, working in a solitary environment and meeting other creative artists who are concentrating on their work is a privileged opportunity.
Speaking to Monday Paper before her sojourn, Fiske said: "I'm looking forward to the serious work environment. It's an extremely beneficial situation to find oneself in and I intend to use it in a productive way.
"Exposure to interesting, international people in one's field is invigorating," she added.
The fellowships are awarded on an invitational basis and past fellows include international writers such as Bei Dao, Vikram Chandra, Anita Desai and Ernesto Cardenal, as well as South Africans William Kentridge, Gcina Mhlophe and Ivan Vladislavic.
Fiske, who writes poetry under the name Ingrid de Kok, has benefited before from a period of writing in Italy. In 1999 she was awarded a prestigious fellowship at the Rockefeller Foundation's Study and Conference Centre at Bellagio, where she worked on her most recent volume of poems, Terrestrial Things. (Just before her departure, Fiske won the Herman Charles Bosman Prize for English Literature - a R20 000 award, for Terrestrial Things).
Later this year, Fiske will be giving readings and talks at Fordham, Northwestern and Indiana universities in the United States. March 2004 will see her taking up a writer-in- residence position at Capilano College in Vancouver.
---
This work is licensed under a Creative Commons Attribution-NoDerivatives 4.0 International License.
Please view the republishing articles page for more information.
---