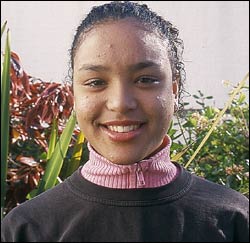 Making the big time: Second-year dance student Lee Piedt who has been chosen to take part in Fame - The Musical.
When Fame - The Musical hits South African shores in September, UCT's name will be held high by second-year dance student, Lee Piedt, who has been chosen as one of the show's 28 cast members.
Selected from 600 hopefuls who auditioned, Piedt will take up her role as part of a group of 12 ensemble dancers and singers, each with their own style, look and personality. The show will provide the 19 year-old with the opportunity of showcasing her abilities while working with international directors and choreographers.
Although sick on the day of the auditions, it was Piedt's family and friends who encouraged her to attend.
A jubilant Piedt explained: "I was feeling awful and I hadn't prepared for it. I didn't have any photos to present and a friend typed up my CV that very morning. The auditions were tough, really challenging, so I was shocked when they kept calling me back."
After an agonising three-week wait, Piedt received the good news; she had to report for rehearsals in Pretoria in August and would tour with the show for a five-month period.
"I couldn't believe it. It was a wonderful feeling knowing this was major exposure and might be my chance to make it big," she enthused. "It's also very scary, though, because it will be the first time I will be away from home for so long."
Initially interested in pursuing a career in law, Piedt decided on dance after taking part in a Jazzart production during her matric year.
"One day after a costume fitting I came home and told my parents I had changed my mind. I knew I wanted to dance - I have always had a passion for it," she said.
Piedt added: "I love being able to speak to people through my body. It's an opportunity to express myself while offering the audience an escape from the world and their troubles."
Set during the last years of New York City's celebrated High School for the Performing Arts, Fame charts the bittersweet but inspiring story of the roller coaster ride of a group of talented, star struck students from different backgrounds and cultures. The story line captures the dreams, struggles, disappointments, joys and romances of the colourful characters as they commit to four years of gruelling artistic and academic work.
"The production is definitely something I can identify and connect with. It's a lively and vibrant show and that suits my personality," said Piedt.
So, as the famous theme song suggests "I'm gonna live forever - remember my name", remember the name Lee Piedt, for it is surely one that will be in lights in the not too distant future.
Fame - The Musical is presented by Cell C and produced by Hazel Feldman of Showtime Management in association with Jacobsen Entertainment of Australia. The show opens in Pretoria at the State Theatre Opera House on September 10 and runs until November 16. It then transfers to the Cape Town Convention Centre for a season from December 3, 2003 to January 31, 2004. Tickets are now available through Computicket.
---
This work is licensed under a Creative Commons Attribution-NoDerivatives 4.0 International License.
Please view the republishing articles page for more information.
---