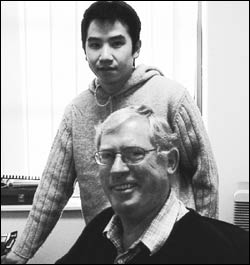 Golden Members: Glen Anderson (seated) and Therdsak Tangkuampien, triumphant members of UCT's Golden Key Society.
UCT's chapter of the Golden Key National Honour Society has had a lot to celebrate recently. Glen Anderson of the Student Development and Services Department won the coveted Advisor of the Year award while current chapter president, Therdsak Tangkuampien, was a finalist for a US$10 000 (about R90 000) scholarship.
The Golden Key National Honour Society is an international student organisation founded by James Lewis at Georgia State University in the United States in 1977. Golden Key recognises high achievers - the top 15% is its benchmark - and offers networking opportunities with institutions across the globe.
With chapters at 294 universities in the US, Canada, Australia, Malaysia and New Zealand, UCT was among the first South African (and African) universities to join the Society, along with Free State, Stellenbosch, Potchefstroom and Natal.
At a recent national conference held at Gold Reef City, Johannesburg, for the 11 South African universities with Golden Key chapters, Anderson was nominated for and won the award, for which he received a plaque and R5 500 for the UCT Chapter.
Commenting on his success, Anderson said he was "surprised but delighted" and that the money would contribute towards sending the Chapter's new president to the international convention, to be held in Chicago later this year.
As an advisor, Anderson acts as a liaison between student clubs and societies and the rest of the University while advising these student bodies on matters such as meetings, fundraising and treasury issues.
"I love working with the students, they keep you young," said Anderson of his 20-year career in student affairs.
Tangkuampien, a fourth-year electrical and computer engineering student, was the first South African student to reach the finals of the Society's scholarship award for postgraduate studies. After submitting a detailed curriculum vitae and a plan of what he wished to study, TK (as he is known to his friends) was informed that he had been named among the 26 finalists.
Anderson said: "Although TK didn't make it to the top 12 finalists, who each receive the $10 000 scholarship prize, it is incredible that he made it into the top 26 batch. He was competing against thousands of students internationally and we are extremely proud of him."
TK believes belonging to the Society has encouraged and motivated him to fulfil his potential. "Golden Key has given me the opportunity to do things that I normally wouldn't have done. It has been a wonderful learning curve and leadership opportunity," he said.
According to TK, each chapter has ten standards that need to be completed each year. These include, among others, community service projects, creating awareness of Golden Key on Campus, producing a yearbook and various social events.
"All these standards have the common purpose of encouraging leadership development and the freedom to undertake new projects in the real world as a student committee," added Anderson.
Over the three years that it has been running, UCT's Chapter has amassed some 2 000 members with between 500 and 600 new members joining each year. The Chapter has eight honorary members, including Vice-Chancellor Professor Njabulo Ndebele. The latest honorary member, who will be inducted in July, is Ian Douglas, a UCT alumni and presently CEO of the new Cape Town Convention Centre.
---
This work is licensed under a Creative Commons Attribution-NoDerivatives 4.0 International License.
Please view the republishing articles page for more information.
---