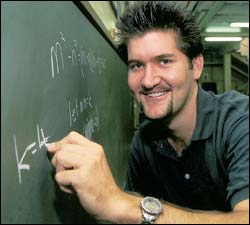 Captain, my captain: Dave Hatton has coached the SA school maths side to a second successive win at the Pan African Mathematics Olympiad.
Doctoral student Dave Hatton added another medallion to an already impressive collection of scholarly gold medals when he recently coached the South African school side to a win at the 13th Pan African Mathematics Olympiad (PAMO), held from April 19 to 27 in Maputo, Mozambique.
The SA team's second successive triumph at PAMO (this time beating squads from eight other countries), the event also saw the four team members, who all finished among the top ten performers, scoop a selection of individual accolades. Linsen Loots (grade 12, Parel Vallei) earned himself a gold medal, Yumna Moosa (grade 10, Wynberg Girls' High) and Gayle Sher (grade 10, Reddam House) each won silver, and Divya Babu (grade 11, Ixopo High School) took bronze.
Loots, who top-scored at the Olympiad, also bagged a laptop computer for his efforts, while Moosa was awarded a graphic calculator as the best girl participant (Sher and Babu were the next best girls at the competition).
In turn, Hatton, working on his PhD in chemical engineering (modelling flotation cells), won the Team Leader gold medal as coach of the winning side, adding to the medallion he earned last year. The two medals make nice new additions to the collection he first started working on at school.
Featuring prominently in this catalogue is the award he won as National Maths Olympiad champion in 1996. In addition to his trophies and medallions, Hatton also represented SA twice at the International Mathematical Olympiad (IMO).
He had to forego the competitions, however, when he finished school and registered as a student at UCT, but so missed the experience that he volunteered as coach for some of the inter-provincial teams. Very soon he was assisting the national teams, and when a gap opened up two years ago, he was selected as team leader for the PAMO squad.
In this capacity, he works with the team for about 18 months (they start off as part of a much bigger contingent), coaching them through an array of training camps, problems and approaches. But the hard and time-draining work - he assists the IMO team as well - comes with many rewards, he noted.
"The kids love it - they absolutely love it," he said. "They get to travel a bit, and they get to hang out with fellow mathematicians and people with similar interests."
Winning a gold medal as team leader also brings a sense of personal satisfaction, Hatton added. "I put in a lot of work with the team, and it's nice to get some sort of recognition," he said.
"And, other than competing, this is the closest I can get to the action."
---
This work is licensed under a Creative Commons Attribution-NoDerivatives 4.0 International License.
Please view the republishing articles page for more information.
---