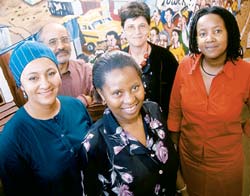 Reaping their rewards: (Front, from left) Vanessa September, Moliehi Ramakau-Ntene and Nosindiso Mtimkulu with (back, from right) the moral support of Profs Brenda Cooper and Crain Soudien, were among the winners of this year's Centre for African Studies and Harry Oppenheimer Institute awards.
Gathered at an intimate teatime meeting two weeks ago, the Centre for African Studies (CAS) handed out its array of awards and scholarships to those postgraduate students who have made their scholarly mark in the department, and beyond, over the past year.
Two of the CAS' many international students, who have since the completion of their studies returned home, featured among the year's laureates. American Sarah Hansen was named the winner of the medal for the Images of Africa course, while Norwegian Lars Asmund Eriksen won the class medal for his outstanding work on the Public Culture in Africa programme.
Frans Kruger (Public Archaeology in Africa), Hilary Morris (the half course on Race, Culture and Identity in Africa) and Susana Molins-Lliteras, most outstanding student on the Debates in African Studies: Race and Racism programme, were the CAS' other three winners to receive their awards in absentia.
Architecture student Vanessa September, who excelled in the Race, Culture and Identity in Africa full-course, was, however, on hand to accept her medal from CAS Director, Professor Brenda Cooper.
Professor Crain Soudien, Chairperson of the Harry Oppenheimer Institute (HOI), then stepped up to present the 2003 HOI Awards. The first of these, the Harry Oppenheimer Fellowship (the Institute's prestige award, according to Soudien) went to Nosindiso Mtimkulu, who is currently at work on her PhD in ethnomusicology.
"This year is very special, because it's the first time, at least since I've been involved with the Institute, that the award is made to a student in the field of music," Soudien pointed out.
The HOI's Jack Simons Bursary, established in honour of Professor Jack Simons, "doyen of African studies at UCT", was made to honours student Moliehi Ramakau-Ntene. Last but in no way least, political studies student Crystal Jannecke won the generous Swiss Africa Award.
---
This work is licensed under a Creative Commons Attribution-NoDerivatives 4.0 International License.
Please view the republishing articles page for more information.
---