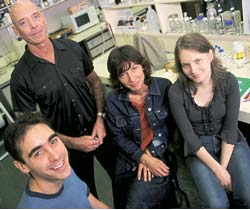 The body of work: The award-winning Hugh Napier (bottom left), Dr Isabelle Ribot (second from right) and Natalya Nikitina of the Dept of Human Biology, compare notes with Assoc Prof Graham Louw shortly after making their mark at this year's conference of the Anatomical Society of Southern Africa.
Three postgraduates of UCT's Department of Human Biology were lauded for their respective works at the 33rd Annual Conference of the Anatomical Society of Southern Africa (ASSA) in early April, two winning prized awards while the third earned a special mention.
The three - Hugh Napier, Dr Isabelle Ribot and Natalya Nikitina - formed part of the UCT contingent of nine students to attend the conference, hosted by the Medical University of Southern Africa (Medunsa) at the Golden Gate resort in Free State. This year the event was organised around the theme of Understanding Anatomy for Better Health, and attracted about 90 delegates, of which 17 were postgraduate students.
Napier, a PhD student, walked off with the Bob Symington Award for Best Young Presenter - and a small cheque - for his talk on Ciliary Body Morphogenesis: tracking changes in cell dynamics. In turn, Ribot, a postdoctoral student, won the SV Naidoo Award for her poster on Identity of Prehistoric South-Central Africans: attempting a craniometrical approach in the light of sub-Saharan African diversity. Nikitina then received a Special Mention for her oral presentation in which she covered her ongoing PhD work on Lens Malformation in the Naked Mole Rat.
Winning three major accolades in one year is a rare feat for any one university, noted Associate Professor Graham Louw, who accompanied the students to the conference. Self-confidence and a good understanding of their topic were among the features of their winning presentations, he said.
"I also think it had to do with their ability to present their research clearly without oversimplifying the subject," he added.
And while the students appreciated his talents as praise singer, driver and occasional chaperone, Louw had his own commitments at the conference. He was involved in three UCT presentations, the first on Reflections on dying and death, and dissection by medical students, on which he had collaborated with Faculty of Health Sciences colleagues Dr Louise Friedling and Laurraine Vivian.
In a second paper, written with Friedling - who also presented the talk - and Professor Trevor Gibbs, the three looked at the Integration of full body dissection and other gross anatomy practicals into the new fully integrated problem-based learning medical curriculum at UCT. In keeping with one of the conference's interests in changing medical education, Louw, Friedling, Gibbs and Vivian also contributed a paper on student assessments of the learning activities within the Faculty's new curriculum.
---
This work is licensed under a Creative Commons Attribution-NoDerivatives 4.0 International License.
Please view the republishing articles page for more information.
---