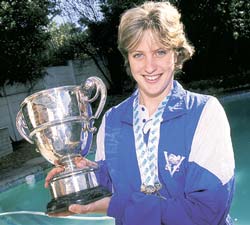 Golden girl: Ingrid Haiden with her winnings
First-year social science student Ingrid Haiden continued her bid for a possible 2004 Olympic berth when she bagged two gold medals and one silver at the Telkom South African National Aquatic Championships in Durban in early April.
The eighteen-year old, who only took up competitive swimming four years ago, staked her claim as heir apparent to former breaststroke sovereigns Penny Heyns and Sarah Poewe when she finished second in the 100-metre event and took top spot on the podium in the 200-metre race. The gold medal in the latter also marked her first national title.
She earned her second gold medal at the six-day meet when she helped the Western Province squad to victory in the four-by-100m medley relay, swimming the 100-metre breaststroke leg. Haiden's time (1:11.97) in the semi-final of the 100-metre breaststroke challenge was also the best recorded at this year's championships.
With the 2004 Greece Olympics very much in her sights, Haiden has a couple of international events she hopes to enter to improve her times - she's still a couple of seconds off from qualifying for either the 100- or 200-metre Olympic breaststroke events. These include Mare Nostrum meets in France and Spain, which in turn would lead to the Olympic-qualifying World Championship in Spain in July, and of course the All Africa Games in Nigeria in October.
But marrying academia and sport comes with a price - Haiden's stay in Durban meant she had to catch up with her academic load during the short University vacation just before Easter. And the many competitions she has lined would mean much of the same for the rest of the year.
As difficult as things are, she remains keen to continue her studies. Graduating in a couple of years' time is still one of her main goals, she told Monday Paper.
In addition to making it to the Olympics, of course. While Haiden does not foresee walking away with medals from next year's centrepiece, she hopes to offer a serious challenge - having garnered additional experience - for the laurels in 2008.
For now, it's off to the pool for her first session of the day at 05h30 in the morning, before hitting the books again. And occasionally casting a proud glance at her first senior gold medal. While Haiden may have been the big winner at the National Championships, other UCT students did manage a few award-winning performances of their own.
Simon Thirsk won bronze in the 50-metre backstroke event, as well as silver in the 100-metre race. In turn, Haiden's Vineyard teammate Natalie Burke finished third in the 100-metre breaststroke contest. Natalie du Toit, who has since been named Sportswoman of the Year by the Western Province Sportswriters Association, won three bronze medals at the gathering, finishing third in the 400-, 800- and 1 500-metre freestyle events.
---
This work is licensed under a Creative Commons Attribution-NoDerivatives 4.0 International License.
Please view the republishing articles page for more information.
---