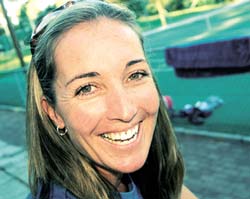 Service with a smile: Jackie Booth is the UCT Tennis Club's new coach
The UCT Tennis Club, after a disappointing show at last year's SASSU games, will be hoping for better things in 2003 following the appointment of Jackie Booth, a South African who during her 15-year sojourn in the United States made her mark as both player and coach.
The number one ranked under-18 woman in South Africa back in 1987, Booth realised at the time that opportunities were limited for local tennis players. She managed to secure an American sports scholarship - a rare thing for South Africans then - and headed for Oklahoma State University at the end of 1987.
"It was a scary thing," Booth recalls, "leaving home and friends and boyfriend."
She soon settled into her new home and her new-found independence, however, and between 1988 and 1991 garnered a host of titles and accolades as player, including Big Eight Conference - featuring the country's eight best university sides - doubles and singles titles. As a senior (her fourth year of studies), she won both the Rolex National singles and doubles championships.
On completion of her studies at Oklahoma State, Booth was appointed as assistant coach to the Washington State squad in 1991, helping the Cougars become one of the best tennis sides in the United States. Under her tutorship, the team qualified regularly for coveted spots at the National Collegiate Athletic Association (NCAA) (a coalition of about 1 200 colleges and universities) tournament.
She continued to compete during this time, and was named the United States Tennis Association Pacific Northwest Women's Player of the Year in 1995. She was also honoured as the regional Intercollegiate Tennis Association (ITA) assistant coach of the year in 1999.
Booth never quite broke into the initially expensive professional tour, however, which had more to do with a lack of funds than lack of talent.
And finding it more difficult to make her way back to the US after each visit to South Africa to see her parents and siblings, last year Booth decided it was time to move back to Cape Town. At the beginning of this year, UCT Sports Administration appointed her as the tennis club's new coach.
With the local tennis season more or less coming to a close - hibernation ends in August - Booth had one last opportunity to see some of the UCT players in action recently, when the club's top four men went up against a travelling Oxford University quartet. Although they were convincingly beaten, winning only one match out of four, it did provide the new coach with a chance to see what the side is capable of.
And while things are a little more laidback here - no pressure from sports scholarships - than in the occasionally "cutthroat" US sporting scene, Booth is keen to introduce a more competitive edge among her wards. Ultimately, however, it's all going to depend on how much the players want to win, she said.
"I'll be here to provide the structure and the drills, but at the end of the day it's going to have to be up to the players as to how much want to put in, because no-one's going to force them to go the extra mile," she commented.
And she's not stopped competing either. Since her return to local shores, booth has helped her new club, Camps Bay, win the premier league division.
And if she has her way, the UCT Tennis Club will be celebrating similar successes soon.
---
This work is licensed under a Creative Commons Attribution-NoDerivatives 4.0 International License.
Please view the republishing articles page for more information.
---