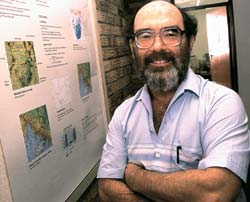 Man of the earth: Assoc Prof Charles Merry has been elected to the executive committee of a major international geodesy organisation.
Geomatics expert Associate Professor Charles Merry has been elected to the executive committee of the International Association of Geodesy (IAG).
The IAG is a scientific body that strives to advance the science of geodesy, and represents scientists from all over the world. The Association is involved in a range of geodetic projects, covering topics related to the size and shape of the Earth, the rotation of the Earth and planets, and gravity field determination, among other things.
It is one of the seven member associations of the International Union of Geodesy and Geophysics (IUGG), which in turn is dedicated to the international promotion and co-ordination of scientific studies of the Earth (physical, chemical, and mathematical) and its environment in space.
Merry, who is based in the UCT School of Architecture, Planning and Geomatics, has worked on a number of studies for the IAG. He currently serves as chairperson of the body's working group on the African Geoid Project.
His four-year term will kick off in July this year when the IUGG meets for its quadrennial conference in Sapporo, the capital of Japan's northernmost island. He has also been appointed by the National Research Foundation (NRF) as the South African delegate to the IUGG council meetings at the gathering. As the lone African representative on the IAG executive committee, Merry hopes to use his new position to champion the use of geodesy in developing countries, a topic he dealt with in a keynote address at a meeting sponsored by the UN Office for Outer Space Affairs last year. More specifically, he is keen to promote geodetic research and activities in Africa, he said.
One of five candidates up for the two vacancies on the IAG executive, Merry considers his election - by international ballot - something of a coup. "At least it means that you're known around the world," he noted modestly.
---
This work is licensed under a Creative Commons Attribution-NoDerivatives 4.0 International License.
Please view the republishing articles page for more information.
---