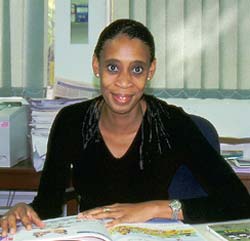 Agatha Lebethe is currently completing mathematics textbooks for grades 4 to 6.
One potential solution to the many problems in the South African education system is to re-ignite teachers' passion about their chosen profession. Teachers need to be re-connected to what first attracted them to the art of teaching, says Agatha Lebethe, a mathematics specialist and researcher at UCT's Schools Development Unit (SDU).
Lebethe has been working in teaching for the past 13 years - the last 10 at UCT - and was recently invited to be one of four members on the plenary panel of the annual International Psychology of Mathematics Education (PME) conference to be held in Hawaii in July. This is only the second time in the 27-year history of the organisation that a South African has been invited to serve in this capacity.
The annual PME conference sets out to promote and stimulate international contacts and the exchange of scientific information in the psychology of mathematics education. It also fosters interdisciplinary research with the co-operation of psychologists, mathematicians and mathematics educators, to further a deeper and better understanding of the psychological aspects of teaching and learning mathematics.
Lebethe is thrilled about the invitation and regards it as a "huge honour" to be internationally recognised for her work. "I will now have the opportunity to share with an international audience the work done in teacher training and research in South Africa.
"To see teachers visibly changed and excited and motivated about teaching mathematics and science after one of our workshops is very gratifying. Also rewarding is the personal growth that's evident and the knowledge that they leave a training programme rethinking their roles in their professions," she enthused.
Lebethe's paper will address how she exists as a teacher and researcher straddling theory and practice. She will touch on the tensions that exist between theory and practice and how she makes sense of these in her work and research.
Associate Professor Chris Breen is Lebethe's supervisor and talks highly of her work ethic and dedication. "Agatha is a passionate woman who cares about education, the kids and the future of South Africa. The education system in South Africa has done a lot to destroy the enthusiasm of our teachers and Agatha, through her work, does wonders to instil that fervour again," he added.
The SDU co-ordinates most of UCT's work within the school sector, focusing on school, teacher and materials development in the fields of mathematics, science, language and lifeskills (including careers guidance and health promotion). The SDU has grown out of the long-standing work of the Mathematics Education Project, the Teaching and Learning Resources Centre and the Lifeskills Project, which have worked extensively in schools for the past thirteen years.
The SDU's education specialists are all well established and well-recognised practitioners who have extensive experience in the education field, ranging across the primary, secondary, tertiary and adult education sectors within various educational contexts. The Unit works with private sector, governmental, university and non-governmental partners in an attempt to streamline their efforts, combine their strengths and offer a holistic approach to development.
---
This work is licensed under a Creative Commons Attribution-NoDerivatives 4.0 International License.
Please view the republishing articles page for more information.
---