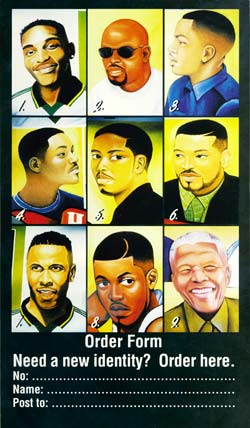 Emerging identities: Barber Shop by Gareth Walker and Bruno Bhiza is one of the several contemorary works featured at the exhibition.
"As a woman I take the role of observer in curating this exhibition. I am interested in the fact that in the early part of the century South African art was dominated by women and now, when men are thrust into new roles, art made by men has come to the fore," explained Carol Brown, curator of the Durban Art Gallery during the walkabout of the exhibition, Male Order, currently on show at the Irma Stern Museum.
According to Brown, Male Order examines the changing role of the representation of male identity in the visual arts in South Africa by artists whose works are in the permanent collection of the Durban Art Gallery. "Before 1990, white males were always the dominate members of society, but post 1994, black men and women have been given a lot more power so the white male has become the most marginalised member of our society and this is causing quite a big identity crisis," she said. While the underlying theme of the exhibition is the shifting sands of male identity in South Africa, especially white male identity, the exhibition focuses on males in general. "There is a perception that masculinity is all the same, in putting this exhibition together, I was trying to illustrate the different representations of masculinity. There is gay masculinity, there are men who see themselves through race, men see themselves through a number of different ways and this exhibition tries to encapsulate that," she added.
Male Order features 27 original pieces of art from artists like Greig Coetzee, Walter Oltman and Wilma Cruise.
Male Order runs till April 26.
---
This work is licensed under a Creative Commons Attribution-NoDerivatives 4.0 International License.
Please view the republishing articles page for more information.
---