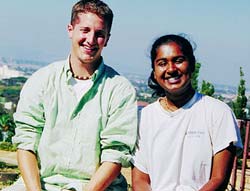 Meena R. Kannan and Jonathan Evans, both American semester abroad students at UCT, have been awarded prestigious Harry S. Truman Foundation Scholarships.
Two American semester abroad students will depart South African shores in June with wonderful memories of UCT and Cape Town, but also with the knowledge that they will be taking up the prestigious Harry S. Truman Foundation Scholarship once back home.
Meena R. Kannan and Jonathan Evans are among the 76 recipients of the Harry S. Truman Foundation scholarships for 2003. The recipients are elected on the basis of leadership, potential, intellectual ability, and likelihood of 'making a difference'. They are both thrilled and excited about the Scholarship and see it as a validation of the time and effort they have invested in their studies.
Kannan wants to pursue a career in International Criminal Law and is taking courses in Religion and Conflict, Violence and Political dynamics at UCT. She was born and raised in Mobile, Alabama and attends Georgetown University. Pursuing a major in International Politics and a certificate in Justice and Peace Studies, she is writing a thesis on the legal and moral aspects of humanitarian intervention.
While studying at Georgetown, she has volunteered with a multitude of non-governmental organizations dealing with issues ranging from refugee protection to prostitution in the greater D.C. area. She plans to attain a law degree in Public International Law and a masters degree in International Humanitarian Law. Her interests include reading, photography, playing soccer and going to the movies.
After seeing the hardships of Costa Rican coffee farmers firsthand, Jonathan Evans initiated a successful grassroots student campaign to convince his university to exclusively serve socially just coffee in all of its dining halls. Completing an undergraduate degree in English and Human Development, he has served as vice-president of the student body's minority affairs council and developed goals to foster a more racially inclusive campus culture.
As part of his studies at UCT, Evans is researching the effects of HIV/AIDS in public school classrooms. In addition to being a bibliophile, he enjoys playing sports, writing memoirs, and spending time outdoors.
The Scholars were selected from among 635 candidates nominated by 305 American colleges and universities. Recipients must be American citizens, have outstanding leadership potential and communication skills, be in the top quarter of their class and be committed to careers in government or the not-for-profit sector.
Congress established the Truman Scholarship Foundation in 1975 as the federal memorial to the nation's 33rd President. The Foundation awards scholarships for college students to attend graduate school in preparation for careers in government or elsewhere in public service. The activities for the Foundation are supported by a special trust fund in the US Treasury. There have been 2 163 Truman Scholars elected since the first awards were made in 1977.
---
This work is licensed under a Creative Commons Attribution-NoDerivatives 4.0 International License.
Please view the republishing articles page for more information.
---