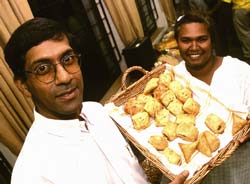 Food for the mind and body: Dr Sagadevan Mundree (left) and Jackie Beukes pool their talents to keep the bi-weekly All Africa House seminars tantalising and tasty.
SINCE first taking charge as Warden of All Africa House (AAH) in early 2001, Dr Sagadevan Mundree has, true to his word, attracted a procession of luminaries to act as speakers at AAH's bi-weekly seminars, the gatherings' astute debates and cerebral jousting keeping residents and guests in regular thrall.
American ambassadors and pastors parrying with inimical inquisitors, academics keen to affect a little controversy and local politicians speaking out have become regular features of these meetings. Only two weeks ago, General Bantu Holomisa, leader of the United Democratic Movement, took the assembly on an "off the record" guided tour to some of the goings-on in the corridors of ANC power.
The line-up for the rest of the year's seminars promises to be equally exciting, says Mundree, who, it must be noted, in addition to serving as AAH warden, also has a heavy teaching and supervising load in his capacity as senior lecturer in the Department of Molecular and Cell Biology and is busy with a part-time MBA (and did we mention his young family?). Among the guests to have RSVP'd to Mundree's invitations and to grace the AAH podium over the next weeks and months are former president FW de Klerk; Zackie Achmat of the Treatment Action Campaign (TAC); Deputy Minister of Foreign Affairs, Aziz Pahad, who will speak on the war in Iraq; and the Archbishop of Cape Town, Njongonkulu Ndungane.
According to Mundree, all it takes is a short email – 99% of the time somebody always comes back to him - to lure the luminaries to UCT. For many, he says, the AAH seminars provide a forum to present their sides of an argument.
"All I tell them is they have to be prepared for some tough questions."
But while tricky disputes provide food for thought, the AAH seminars are also renowned for their sumptuous culinary banquets, courtesy of Jackie Beukes. Last year, tired of the pre-packaged meals dished up by some previous incumbents, Mundree turned to the then-unemployed Beukes, offering her the opportunity to strut her smorgasbord of pastries, curries and other palatal pleasures.
Beukes' treats have become a mainstay of the AAH meetings ever since. Taking care of the catering for the AAH seminars has also inspired the entrepreneurial spirit in Beukes, who now also cooks up a storm for other clients.
Aimed initially at All Africa House residents – who trek in from all parts of the country, continent and globe – the AAH seminars provide the complete package for cultural and intellectual exchange, says Mundree.
---
This work is licensed under a Creative Commons Attribution-NoDerivatives 4.0 International License.
Please view the republishing articles page for more information.
---