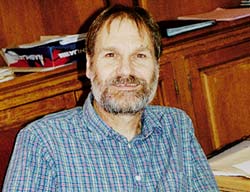 Professor George Ekama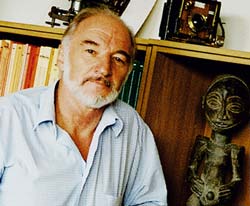 Professor Heinz Ruther
Professor Heinz Ruther, Department of Geomatics, and Professor George Ekama, Head of the Department of Civil Engineering, have recently been appointed as Fellows of the SA Academy of Engineering.
The SA Academy of Engineering promotes excellence in the science and application of engineering and comprises South Africa's most well-known engineers of all disciplines and related professionals with proven ability and achievement. The Academy strives to provide a forum for discussions of issues relevant to the formulation of public policies for engineering based activities, as well as promoting the application of engineering in South Africa to improve the quality of life of its people.
Both Ruther and Ekama are excited about their appointment. Ruther sees it as a personal recognition but also as an acceptance of the relatively new Geomatics discipline into the Engineering "family". "Ultimately it is a recognition of all the work I've done over the last 30 years. It is truly something special to be recognised by one's peers," Ruther noted.
Ekama echoed Ruther's sentiments and said that it is always a validation to get credit for the work you do in your field.
Ruther has been the HOD of Geomatics since 1990 and has during his career made significant contributions in the field of engineering and technology. Among others, he has introduced digital vision metrology into the survey profession in South Africa. He also designed various geographic information systems, developed digital photogrammetric applications in manufacturing and quality control, as well as developed algorithms for photogrammetric surface generation.
He is a Fellow of the University of Cape Town as well as a member of the South African Academy of Science, Vice-President of the African Association for Remote Sensing of Environment and Council member of the International Society for Photogrammetry and Remote Sensing (ISPRS).
Ekama has been with the department of Civil Engineering since 1975, when still a postgraduate student. He was appointed Professor of Water Quality Engineering in 1991 and HOD of the department at the beginning of this year.
Some of the significant contributions he had made during his career include the development of wastewater treatment systems configurations and simulation models for biological nutrient removal treatment plants, as well as designed procedures and models for secondary settling tanks.
He is a Fellow of the University of Cape Town, the Royal Society and the Academy of Science of South Africa, a senior fellow of the Water Institute of Southern Africa, as well as a member of the International Water Association.
---
This work is licensed under a Creative Commons Attribution-NoDerivatives 4.0 International License.
Please view the republishing articles page for more information.
---