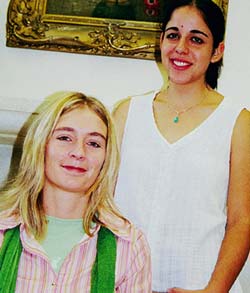 Nicole Schafer (seated) and Yas Taherzadeh-Malmiri
Two postgraduate students in Film and Media Studies were awarded bursaries from the Canadian Foundation at a function last week. The Canadian Foundation consists of UCT Alumni that reside in Canada.
Ms Nicole Schafer, a masters student in New Film and Media, and Ms Yas Taherzadeh-Malmiri, an honours student in Film Theory and Practice, both received individual bursaries of R25 000 towards their studies.
In an address at the presentation function, Professor Martin Hall, Deputy Vice -Chancellor, said that the bursaries are a very important development for UCT. "We have been looking quite actively in raising funds for Film and Media Studies, including financial support for students enrolled in the programmes.
"We are very glad of the support given to UCT by the Canadian Foundation. In addition to the two bursaries for Film and Media Studies, they have also raised funds for bursaries in Humanities," he noted.
The Vice-Chancellor, Professor Njabulo Ndebele, congratulated the two students on being the first recipients of bursaries in Film and Media Studies. "I hope this investment in you will encourage you to be continually fascinated with the film industry in South Africa and Africa. There is a lot to be contributed to take the industry to greater heights," he added.
Both Schafer and Taherzadeh-Malmiri are very excited about their courses and delighted about receiving the bursaries. They both intend to ultimately add their personal individual strengths to the film industry in South Africa.
Applicants were required to submit an essay of 1 000 words on their vision for film and media in South Africa. A total of 8 essays were received and assessed by Professor Lesley Marx, Director of the Centre for Film and Media.
According to Professor Marx, all the essays showed a great deal of promise and the winning applicants were chosen on the basis of the level of creativity shown as well as academic merit and financial need.
The essays of the two successful candidates will be submitted for publication in newsletters as well as other publications produced by the Canadian Foundation.
---
This work is licensed under a Creative Commons Attribution-NoDerivatives 4.0 International License.
Please view the republishing articles page for more information.
---