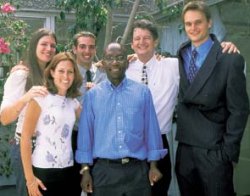 Bon Voyage: Four students flew to Europe to compete in the Copenhagen Business School Case Competition 2003. Photographed here were: (from left back) Bronwyn Howell, Anthony da Costa, Prof Mike Womald and Douglas Rix. (Front) Monica Frey and Richard Chivaka.
FOUR UCT final-year accounting and finance students have flown to Europe to compete in the Copenhagen Business School (CBS) Case Competition 2003.
One of the judges is Richard Ivey School of Business professor of purchasing management Mike Leenders (dubbed the world's case study "guru"). Leenders also lead a workshop on case-study-based teaching.
The UCT team of Monika Frey, Bronwen Howell (both accounting and finance), Anthony da Costa (finance) and Douglas Rix (accounting) will compete against 10 other teams from Philadelphia, Los Angeles, New York, Montreal, Oslo, Koblenz, Copenhagen, Budapest, Bangkok and Singapore.
Speaking at a farewell function for the "core four", as they have been named, Professor Mike Wormald (HOD, accounting) said not only was the team representing southern Africa and Africa, but also the southern hemisphere.
The group was lead by senior lecturer Richard Chivaka, who not only acted as faculty advisor but also used the opportunity to present a paper.
This is the second annual case competition to have been held at CBS. The competition creates an opportunity for (the best) business undergraduates from various internationally renowned business schools and universities to apply their theoretical competencies to solving real-life problems.
Besides offering students an outstanding learning experience, the competition encourages cross-cultural networking for students and faculty.
---
This work is licensed under a Creative Commons Attribution-NoDerivatives 4.0 International License.
Please view the republishing articles page for more information.
---