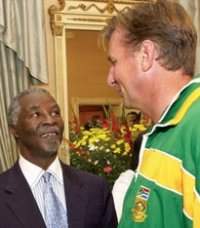 Eric Simons pictured with President Thabo Mbeki just before the start of the Cricket World Cup.
ACCORDING to Eric Simons, the man who, when push comes to shove, ultimately bears the burden of South Africa's Cricket World Cup (CWC) hopes, his approach to team management is to help the players set their individual goals, then make sure – via cajoling or censure – that they realise these.
Speaking to
Monday Paper
briefly before the start of the CWC, Simons, who graduated with a Bachelor of Commerce degree from UCT in 1983, noted that this was exactly the kind of mindset he emphasised when he first took charge of the team (directly after the Proteas took some beating from Australia both Down Under and at home).
"I'd been playing professional cricket for many years and I'd seen the ups and the downs, the highs and the lows of the game," he observes, adding that the team was disappointed about the defeats, but certainly not down and out.
"It was just a case of getting in there and saying, right guys, what do you want to do here, let's get some focus and let's move towards our goals," he notes of his first few meetings with players. "It was a matter of realigning everyone's goals, getting everyone to agree on what we wanted to achieve as a team and then setting about doing it."
It was this kind of determination and sense of purpose that stood Simon in good stead during his studies at UCT in the early 1980s, just about the time when he made his provincial debut for the Western Province B and senior sides. While others chose sporting career over academic aspirations, he decided he needed both.
"I always wanted to complete my studies, and the demands of cricket when I started weren't as high as they are now," he comments. "Also, financially, you had to [keep studying], as in those days you didn't earn as much from cricket – it was more pocket money than anything else."
After finishing his studies and national service, Simons started up a civil engineering business with his father, at the same time playing cricket for Western Province – where he would be dubbed "Mr Reliable" for his performances with the ball and bat – and, from 1993, for South Africa.
He would eventually represent the national side in 23 one-day internationals, taking 33 wickets at an average of 24.54 and conceding exactly four runs to the over, figures that compare very well to the best of the current cadre of top international bowlers.
He also earned himself a reputation as a big hitter towards the end of an innings. After two years coaching the Western Province side alongside Vincent Barnes – his first coaching job, one that came along unexpectedly and demanded a sudden career change – Simons was appointed as national coach last year, replacing Graham Ford.
Since then things have gone reasonably smoothly, with convincing victories over minnows Bangladesh and the more accomplished Sri Lanka and Pakistan outfits.
But Simons has not let occasional success or praise from the press go to his head. "I've played long enough to know that you're only as good as your last performance, and at the end of the day you can't play for the press.
"If things go well, it goes well and you'll be their hero, and you don't get carried away with it because you know that as much as you're their hero today, tomorrow if there's a bad performance, you're going to be the villain."
In preparing for the World Cup, Simons has again been working on getting the players focused on the goals, and along the way facing up to a few ghosts, with Edgbaston 1999 featuring among these spectres. "It's not something you want to shy away from," he says. "We have discussed it at length, and I think we've sorted it out."
A recent talk with Francois Pienaar, the captain of the Springbok side that won the 1995 Rugby World Cup in South Africa, has also highlighted a couple of important aspects of the game, Simons adds. "At the end of the day, no money can buy the privilege and the excitement of winning [the World Cup].
"It's got a lot to do with how much it means to you as an individual."
---
This work is licensed under a Creative Commons Attribution-NoDerivatives 4.0 International License.
Please view the republishing articles page for more information.
---