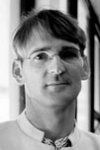 P-rated: Humboldt Fellow Assoc Prof Anton Fagan (Law) has received a President's Award from the National Research Foundation, the only one awarded following the most recent rating.
Working with the NRF website, which features a list of 20 P-rated researchers as of July 2002, UCT now has three of the country's 21 P-rated researchers. The University of Natal leads the field with four, followed by UCT and Stellenbosch with three each, and Wits and UWC with two each.
THE PAST six months have delivered two special achievements for Law Faculty's Associate Professor Anton Fagan. On the heels of the Humboldt Research Fellowship he won in September to conduct research in Germany, comes the news of a National Research Foundation (NRF) President's Award, or P-rating.
There are two distinguishing aspects to Fagan's latter award; the senior lecturer in law is only the third young UCT researcher to obtain this recognition, following Drs Maano Ramutsindela (Environmental and Geographical Science) and Justin O'Riain (Zoology) who received P-ratings last year. He is also the first candidate from the Law Faculty to achieve an NRF rating. (In 2002 researchers in law and the humanities were invited to apply for evaluation and rating for the first time.)
One could have expected great things of the UCT alumnus (LLB
magna cum laude
1988) who matriculated from Jan van Riebeeck High with six distinctions, the Western Province's best matriculant in 1981. He also completed a BA (philosophy and politics) at the University of Oxford in 1991. Although Fagan comes from a family of practising lawyers, it was thanks to the encouragement and support of his law teachers at UCT that he completed a DPhil at Oxford in 1997, which whetted his appetite for academic law.
"My thesis was a long time coming," he says of the work, titled
Constitutional Adjudication in SA
. "I started it at a time when South Africa did not yet have a Bill of Rights, but when it seemed likely that it would get one. As a result, the focus of the thesis changed as events unfolded here. Initially, I had thought to write on what should go into the Bill of Rights. But I ended up with a thesis that dealt with the interpretation of the Bill of Rights."
His P-rating however, recognises his work in jurisprudence, which by its nature, he says, purports to be of universal application.
"I must confess the fanfare surrounding the P-rating came as a surprise. Because the NRF ratings are new to law, I applied for a P-rating without fully appreciating its significance. I had imagined that, were I successful, I would simply get a letter in the post and than it would be back to business as usual."
The news also came on the eve of his departure to Germany to take up the Humboldt Fellowship. Fagan will spend a month at the Goethe Institute in Bavaria and then 11 months at Max Planck Institute for Comparative Private Law in Hamburg where he will be doing the groundwork for a new book on the South African law of delict. "The reason for going to the Institute is that the book seeks to place the South African law of delict in a comparative perspective."
Fagan has some tenuous German connections. In 1989 he was research assistant to Dr Reinhard Zimmerman, Professor of Private Law, Roman Law and Comparative Legal History at Regensburg University in Bavaria, an area (and the only part) of Germany he got to know quite well. He has been reading German novels in an attempt to bolster his "appalling" spoken German and slightly better reading abilities. "But I will be meeting up with some friends whom I got to know on two climbing trips to the Alps."
Achievement runs in the family; as the NRF news was formally announced at a luncheon hosted by the Faculty, Fagan's uncle, renowned restoration architect, Gawie Fagan, was battling wind lulls between Cabo Frio and Rio de Janeiro. At 77 he was the oldest competitor in the SAP Cape to Rio race, aboard the smallest boat.
Anton has also co-authored a paper with his brother, Eduard, an advocate at the Cape Bar.
Not a sailor himself, Fagan's favourite "off duty" pursuits centre on his family: Suzie and their children Hannah and Adam, who will join him a month after his arrival in Bavaria. He does have another leisure-time passion: rock-climbing. "It is a good sport to pursue in Cape Town, somewhat harder to do in Hamburg," he quipped.
Speaking at the luncheon to announce Fagan's P-rating, NRF vice president, Dr Gerhard von Greunewaldt, mentioned the brain drain.
Asked what kept him in South Africa, Fagan answered: "Like all white South Africans of my generation, I enjoyed benefits and privileges because they were denied to black South Africans. It is a debt that has to be repaid. And it is easier to repay it here than by slinking off to London or New York."
---
This work is licensed under a Creative Commons Attribution-NoDerivatives 4.0 International License.
Please view the republishing articles page for more information.
---