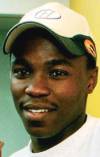 Joseph Tsatsi had a tough time adapting to life at UCT, but six years and three degrees later, the future looks bright for the Masters in Social Policy and Management graduate.
WHEN Joseph Tsatsi picks up the documentation for his Masters degree in Social Policy and Management this week, it will be his third trip up to the UCT graduation stage. Not bad for someone who received most of his primary education in Afrikaans and Sotho and, in matric, had to do without an English teacher for six months.
Tsatsi grew up on a farm in Welkom in the Free State, attending a nearby school where he was taught mostly in Afrikaans and Sotho, while English, he recalls with a smile, was taught through the medium of Sotho.
He prevailed however, and moved with his family to the mining township of Thabong when he had to find a high school to attend.
Things went along reasonably well at Thota-Gauta Secondary School, at least until the matric class's English teacher suffered a stroke at the beginning of one year. Tsatsi and some friends ran a study group until the teacher was replaced six months later and the class had to plough its way through a year's work.
UCT was a culture shock, Tsatsi admits. With no experience of writing academic essays, a "shaky" grasp of English and difficulty with the "foreign accents" of lecturers, he had trouble adapting, and failed a number of initial tests.
"I didn't know what was going on," he says of this period. "At school, I used to do very well, but now, all of a sudden, I was failing everything." But the hours spent under the tutelage of Dr Rochelle Kapp and others on the Academic Development Programme (ADP) paid rich dividends. "He is one of the hardest working and highly motivated students I have taught," says Kapp.
Three degrees and an appointment with Pick 'n Pay Go Banking later, the future looks promising for Tsatsi. "I feel very privileged to have been at UCT," he notes.
"And I would advise other students who have similar backgrounds to mine that when they come to UCT, they use all the services and facilities available, and I can promise that they will succeed."
---
This work is licensed under a Creative Commons Attribution-NoDerivatives 4.0 International License.
Please view the republishing articles page for more information.
---