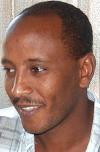 Flawless thesis: Alex Molla is the Department of Information Systems' first PhD graduate in 15 years.
ETHIOPIAN Dr Alemayehu (Alex) Molla is something of a name in the Department of Information Systems. He is not only the first graduate from the PhD programme in Information Systems and National Development (INSAND), established in 1999, but also the department's first doctoral graduate in 15 years.
An alumnus of Asmara University and the University of Addis Ababa, where he studied for his MSc in information science, Molla produced a "flawless thesis" (as one reviewer noted) on e-commerce and e-readiness in developing countries like South Africa, Brazil and Nigeria. It's interesting to note that he hails from a country with probably fewer than 100 websites.
In his thesis, Molla used a theoretically eclectic approach, one rooted in organisation science, information systems, competitiveness and institutional theories, to develop a theory of e-readiness and e-commerce success, with particular relevance to established businesses in developing countries.
His data was collected from a cross-section of 150 established South African businesses. He was particularly interested in identifying those factors among infrastructure, technology and skills that contribute to successful e-commerce ventures in developing countries. His findings refute the "external influence" perspective that dominates e-commerce understanding, and support "mixed influence" perspectives.
One of only a handful of African PhDs in IS, Molla has taken a position as lecturer at the Institute for Development Policy and Management at Manchester University in the United Kingdom. His ultimate goal is to return to Ethiopia and put his many talents to work in his home country.
---
This work is licensed under a Creative Commons Attribution-NoDerivatives 4.0 International License.
Please view the republishing articles page for more information.
---