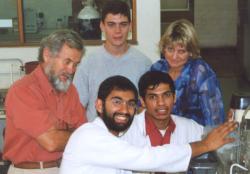 Winning work: (seated, left and right) Nazier Allie and Jaffer Dawood in the flotation laboratory (soon to be demolished when the Unit moves to a new building), with thesis supervisors (from left, back) Prof Janusz Laskowski (UBC), Doug Hatfield and Dr Dee Bradshaw.
TWO chemical engineering students who found something extra to crow about on the eve of graduation are Jaffer Dawood and Nazier Allie.
The duo has scooped the Omnia prize for 2002. This prize is awarded annually for the best undergraduate research thesis in chemical engineering (course CHE4457).
"This year it was a tough choice with three projects getting 81% in the three research areas of crystallisation and precipitation (Andela Storey and Tammy Foster) and bio-process engineering (Kevin Harding and R. Rabe), with Jaffer's and Nazier's project in mineral processing narrowly adjudicated to be the best," said Chemical Engineering Department's Dr Dee Bradshaw.
"All these projects were conducted in areas of research that the Department undertakes for its industrial stakeholders."
The winning project was in the area of flotation and entitled
The Effect of Particle Hydrophobicity on Froth Stability and Flotation Performance
. Allie and Dawood were supervised by Bradshaw and Doug Hatfield, with input from visiting academic Professor Janusz Laskowski of the University of British Columbia (UBC) in Canada.
The research conducted in the Mineral Process Research Unit (MPRU) was a part of the overall research effort and included the joint collaboration between UBC and UCT, Bradshaw added.
"Part of the work done by the MPRU for industry attempts to address industrial problems in a fundamental manner."
---
This work is licensed under a Creative Commons Attribution-NoDerivatives 4.0 International License.
Please view the republishing articles page for more information.
---