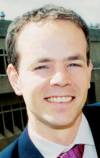 Getting ready for the jet set life: Business Science student Eldon de Waal has not only earned himself an award for his Honours thesis, but has also secured a post with prestigious investment bank JP Morgan.
BUSINESS science graduand Eldon de Waal has, he will tell you, had a hectic year.
It has included duties as head tutor for the Department of Statistics, an Honours thesis that has won him one award and put him in contention for another, and securing a prized job with international investment bank JP Morgan.
The latter two achievements have been especially satisfying, although for different reasons, De Waal says.
The award for best Honours thesis that he received from the Western Cape chapter of the Operations Research Society of South Africa (ORSSA) for his thesis on
Portfolio Optimisation: Examining re-sampled efficiency and portfolio confidence intervals
– his paper has now automatically been entered for the national accolade – earned him not only a small cheque, but also the valued recognition of his peers, he observes.
"The Honours thesis is the first time you really get to do good research, and I really put blood, sweat and tears into it. For me, the prize was really about the recognition, about saying that your hard work is appreciated."
JP Morgan also showed their appreciation of his hard work by offering him a job and will be posting him to either its New York or London office as from next year.
"Sometimes I think, 'this is just so easy – this is so what I wanted'," reflects De Waal on his new job.
"But I really liked what former New York Mayor Rudi Giuliani said on
Oprah
once, that luck is when opportunity meets preparation.
"And my philosophy has always been, 'nothing is impossible, just do your damn best'."
---
This work is licensed under a Creative Commons Attribution-NoDerivatives 4.0 International License.
Please view the republishing articles page for more information.
---