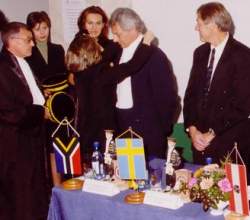 Colourful ceremony: Prof Mino Caira accepts the University of Medicine and Pharmacy (UMF) ceremonial toga after receiving a Doctorate
Honoris cause
from the Romanian institution. In UMF tradition, each recipient of an honorary degree is given a bronze medal bearing a likeness of Iuliu Hatieganu (founder of UMF), a statuette and a boquet of flowers.
THE Romanian Iuliu Hatieganu University of Medicine and Pharmacy (UMF) has awarded a Doctor
honoris causa
to UCT chemist Professor Mino Caira at a festive ceremony in Cluj-Napoca. UMF rector, Professor Dr Marius Bojita, delivered his citation.
The award was made for "prodigious scientific and didactic merits in the field of pharmacy and continuous support to the university" following several years of successful collaboration between Caira and Bojita, who also heads research groups in pharmaceutical technology and drug control.
The collaboration is in the areas of drug polymorphism and cyclodextrin inclusion of drugs and has led to joint publications, conference presentations and co-supervision of students. Caira has also presented several seminars to fifth-year UMF pharmacy students on the solid-state characterisation of drugs.
Founded in 1872, the original Faculty of Medicine at UMF was part of the Franz-Joseph University. In 1948 the Institute of Medicine and Pharmacy was created and in 1990 it became the University of Medicine and Pharmacy. "Today, the UMF is a dynamic, highly reputable central European tertiary institution, producing top medical and pharmaceutical scientists, Caira added.
"In 1996, the University participated in a contest organised by PHARE and was the only medical university in Romania designated as a primary level institution." According to Caira, the PHARE programme is one of three pre-accession instruments financed by the European Communities to assist the application countries of central Europe in their preparations for joining the European Union (EU).
Of the five honorary doctorates awarded at the graduation ceremony, four went to European medical experts specialising in urology and organ transplantation.
Despite his exotic sounding name, Caira is a born-and-bred Capetonian and his connection with Romania is purely scientific (his father, an Italian, was a POW at Zonderwater but decided to stay in South Africa after release instead of being repatriated). He gained his PhD from UCT in 1975.
After a stint at the University of Port Elizabeth, Caira returned to UCT as an associate professor in 1988. He was promoted to full professor this year. "Some of my research collaborations happen to be with pharmaceutical chemists in countries in central Europe, such as Hungary, where I spent research leave, and Romania, where I have attended congresses and lectured pharmacy students."
---
This work is licensed under a Creative Commons Attribution-NoDerivatives 4.0 International License.
Please view the republishing articles page for more information.
---