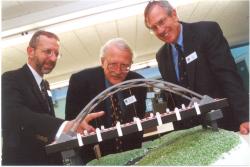 Fresh new face: (from left) Civil Engineering HOD Prof Mark Alexander, Senior Deputy Vice-Chancellor Prof Wieland Gevers, and Prof Cyril O'Connor, Dean of the Faculty of Engineering and the Built Environment, check out the sights while on a walkabout through some of the new facilities in the renovated Civil Engineering laboratory complex.
BOASTING a refurbished curriculum and awaiting the arrival of new neighbours next door – as soon as "next door" is built – the Department of Civil Engineering has undergone a multi-million rand physical transformation that has gone way beyond just slapping on a fresh coat of paint.
The Department recently hosted a function to showcase the final product of its R4.45-million – R350 000 under the original R4.8-m budget – Civil Engineering Laboratory Renovation Project, which has brought a new mien to the laboratory complex in the Snape Building.
The renovations relieved the department of a substantial amount of unused and under-utilised space, but also allowed it to add a new flat-floor teaching area and new postgraduate offices, and to reconfigure and refurbish some existing areas. The revamping also included the upgrading of old and purchasing of new equipment at an additional R1.2-m.
The costs for the renovations and equipment upgrade were covered courtesy of a R3-m capital contribution by UCT, as well as funds raised by the department.
The DG Murray Trust (R750 000); the Charl van der Merwe Foundation (R350 000); Murray & Roberts (R50 000); Haw & Inglis (R50 000); Hawkins, Hawkins & Osborn (R25 000); and Ninham Shand (R10 000) were among those contributing to the project's coffers.
Speaking at the recent opening function, HOD Professor Mark Alexander pointed out that a reduction in student numbers and a change in the way research is done in the field had meant that a lot of space in laboratories had become obsolete.
In addition, the department is gearing itself for the move of the Department of Chemical Engineering into the buildings currently under construction next to Snape. "Our objective with this project was to shed the excess space, and to clear up the place," he said, pointing out that decades of 'waste' had also accumulated in some corners.
"The project and the donors have ensured that Civil Engineering at UCT will continue to offer quality degrees to the many students to come for the many years to come."
---
This work is licensed under a Creative Commons Attribution-NoDerivatives 4.0 International License.
Please view the republishing articles page for more information.
---