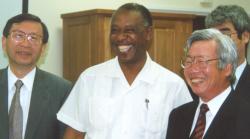 High level talks: Watched by team members, Satoru Anzaki and Tokyo Sexwale (front right and centre) share a light moment at a press conference following the visit of a Japanese business delegation to South Africa. Anzaki addressed the GSB during his visit.
THE LEADER of a high-level Japanese business delegation to South Africa, Satoru Anzaki, addressed UCT's Graduate School of Business recently.
Anzaki was in South Africa, together with a large delegation of officials, to attend the South Africa/Japan Business Forum. He is chairperson of the Committee on Sub-Saharan Africa of the Keidanren (Japan Business Federation) and chair of the board of Komatsu Ltd.
At the GSB address, Anzaki, who heads one of the major manufacturers of construction and mining equipment, focused on the struggle of Japanese firms in an era of global mega competition.
"We see a vast perception gap regarding the notion of unconditional obedience between the world of monotheism such as Christianity and Islam, and polytheism, such as Japanese Shintoism," he said.
"When Japanese managers sell at a reduced price to gain market share, at times sacrificing profitability, Americans might attribute it to the managers' perception of customers as God, accepting their arguments without any objection.
"The advantage of American-style management in creating profitable business models may stem from the difference in the perception of customers. In Japan, relationship develops business while in the US, business develops relationship. The difference may be related to regulations imposed by the authorities of cultures."
---
This work is licensed under a Creative Commons Attribution-NoDerivatives 4.0 International License.
Please view the republishing articles page for more information.
---