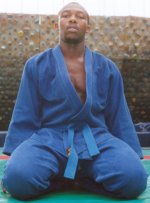 I'll make you blue: Since joining the UCT Judo Club last year, Kolisang Thabana has garnered a number of medals.
INSPIRED partly by his mother's enthusiasm for the martial art, Kolisang Thabane last year joined the UCT Judo Club and, in addition to serving as club chairperson, has in quick time established himself as an exponent of note.
The political science student has already garnered a number of accolades, the most recent being the silver medal in the under-90kg individual competition at a Judo South Africa event held at the University of Fort Hare.
He also won a gold medal in the team challenge, joining up with students from the University of the Western Cape and Peninsula Technikon.
Last year, he won bronze at the SASSU championships and silver at a challenge hosted by Cape Technikon.
And he's had to work hard for all of these trophies, going up against a black belt (four gradings up from his own orange) in the SASSU event, and a brown belt (three up) graded opponent in the Fort Hart individual final.
But fighting judoists (or judoka, as participants are known) who are more advanced is not unusual in competitions, and part of the sport's appeal, notes Thabane.
Taking a break from the sport for a few months – to tackle things like exams – he has already set himself a couple of goals for 2003.
This includes improving on his results in the SASSU event, preparing for a possible grading – the next belt he wants to tie around his waist is the green one – and taking part in the provincial trials.
Beyond that, well, there are also his duties as development officer on the Western Province Judo executive committee, and aspirations to earn the coveted green and gold. And, considering his impressive record thus far, the latter may come sooner than later.
---
This work is licensed under a Creative Commons Attribution-NoDerivatives 4.0 International License.
Please view the republishing articles page for more information.
---