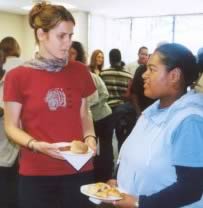 Reading volunteers: Those student volunteers who take time out to read text onto audio tapes to assist blind students were honoured at a TCATS lunch recently. They included (left) Michelle Venter (third-year BA (English and Philosophy) and Bronwyn April (first-year social work).
TCATS say thanks to student volunteers
TCATS, the Text Conversion & Assistive Technology Services, hosted a lunch to thanks student volunteers who assist with various reading programmes. TCATS volunteers read course readers, textbooks and other printed material onto audio tapes, which are used by blind students. Students usually volunteer one lecture period a week.
The programme is into its ninth year, thanks to the efforts of volunteers (who numbered 247 in 2002). One of the blind students, John Molefi said: "People who take part in this programme make our stay here more tolerable. Even though we may not know your names or faces, you have done us proud and we'd like to express our personal thanks. You certainly do have a claim on my success!" he quipped.
Novel research? Good grad story to tell?
At
Monday Paper
we are planning our last edition of the year, the bumper graduation edition, which appears on Monday, December 9, at the start of graduation week.
We like to feature graduands who have either produced some novel research or who have an interesting grad story to tell. Perhaps they've invented something, or perhaps they boast the biggest feet ever in the microbiology honours class. We would like to hear from or about these people, either via their supervisors or heads of departments, or through their colleagues or friends.
Our contact details are on the back of your
Monday Paper
, or phone Helen Theron on 650Â 4145. We'd like to hear from you by early November. Please include as many contact details as you can for these graduands.
HES courses now on offer
The Centre for Higher Education Development, with UCT's Department of Education, is now offering Higher Education Studies (HES) courses to academic staff, senior administrative and PASS department staff. The HES course are aimed at:
deepening understanding of South Africa's higher education (HE) policy environment;
developing capacity among HE professionals;
enhancing theoretical and conceptual tools to critically reflect on educational practice;
enhancing approaches to assessment by means of critical engagement with current debates on assessment;
enhancing capacity to use ICTs to support teaching and learning in specific contexts.
The various courses on offer include: Learning and Teaching in HE; Globalisation, University and Academic Work; Assessment and Evaluation in HE; Educational Technology in HE; Academic Literacies: Language and Learning in Secondary and Tertiary Contexts; and Knowledge, Learning and the Organisation of Work.
For more information please contact Rob Moore, email:
rmoore@ched.uct.ac.za
, ext 4074; or Suellen Shay, email:
sshay@ched.uct.ac.za
, ext 4073.
UNITECH awards
For the second consecutive year,
Monday Paper
was voted second best internal publication at the annual UNITECH Excellence Awards. Beating us to the coveted number one spot was the University of the Witwatersrand's
The Wits Edge
. Taking first place for UCT in the category External Publication was
UCT News
.
UCT was awarded third place in the Annual Report category; first place went to PE Technikon. Other categories featured at UNITECH were Integrated Marketing Programme, which went to Cape Technikon; Best Website was awarded to the University of Port Elizabeth; and the "Overall Winner" when to Technikon Pretoria.
---
This work is licensed under a Creative Commons Attribution-NoDerivatives 4.0 International License.
Please view the republishing articles page for more information.
---