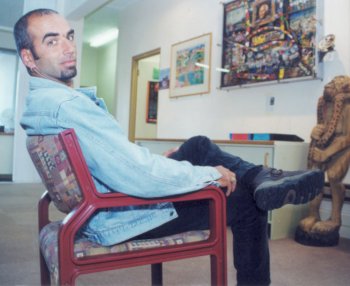 Burrowing into the future: Dr Nick Shepherd has won a international archaeological essay competition.
DR NICK Shepherd of the Centre for African Studies (CAS) has helped UCT set a scholarly milestone when he recently took top honours in an essay competition run by journal
Archaeological Dialogues
, making him the first person to win the event since it was last run in 1971. On that occasion, the competition was won by another UCT graduate, Glynn Isaac.
Shepherd's essay on
Heading South, Looking North. Why do we need a Postcolonial Archaeology?
, earned him the event's €1 000 prize money donated by the Free University of Amsterdam in Holland, and a spot for his piece in the journal's Winter 2002 edition (volume 9 number 2). The UCT lecturer's entry was the sole offering from Africa, going up against 21 other contributions from 13 countries.
The competition was directed specifically at young scholars in the field. An international board of archaeological experts was convened to give their stamp of approval to the submitted works.
The event was organised as a sequel to the Whither Archaeology contest organised by another journal, Antiquity, in 1969-1971, then won by Isaac together with Even Neustupný.
In his essay, which had to tackle the question of "What future for studying the past?", Shepherd looked at the prospects of what he refers to as postcolonial archaeology. According to him, the success of such a programme would rest on three legs: the need for it to re-engage with society; to "contest the directionality of exchanges in the discipline"; and to re-examine "relations of production" within the discipline. Professor Brenda Cooper, Director of the CAS, provided comments for the article.
"This is a major achievement," commented Prof Martin Hall, Dean of Higher Education Development at UCT and Professor of Historical Archaeology in the CAS, as well as Shepherd's co-presenter on a Masters programme on public culture in Africa. "The award recognises Shepherd's work as among the best in his generation, and is a credit to UCT."
---
This work is licensed under a Creative Commons Attribution-NoDerivatives 4.0 International License.
Please view the republishing articles page for more information.
---