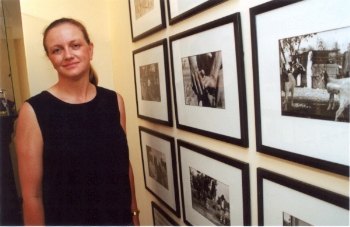 Picture perfect: Rochelle le Roux with the Honouring the Farm Labourer photographic exhibition she has set up in the Kramer Law Building.
LAW LECTURER Rochelle le Roux, a member of the Institute of Development and Labour Law, has added an aesthetic touch to the legal world and the space outside her office in the Kramer Law Building where she has set up a photographic exhibition dedicated to farm labourers.
The exhibition, titled Honouring the Farm Labourer, features a series of black and white photographs of labourers from a number of farming areas around the Western Cape, including Malmesbury, Worcester and Bonnievale. The pictures were all taken by freelance journalist Amanda Botha.
Le Roux first came upon the idea of a photo exhibit after viewing one on the rural people of Western Australia at the Western Australia Museum in Perth. She became more determined to set one up in Kramer when, after returning to South Africa, she read of the upcoming determinations of the Employment Conditions Commission (ECC) for the agricultural sector.
The ECC advises the Minister for Labour on sectoral determinations, basic conditions of employment, policies and other matters concerning the Act, and conducts public hearings on these matters.
"In terms of the Basic Conditions of Employment Act, the ECC may make specific determinations for specific industries," Le Roux explained.
She approached Botha, who had been travelling around the Western Cape taking shots of labourers for a commission from Ogden International, a company in the United States.
With a selection of photos from Botha and funding from Stellenbosch Vineyards – which included a few bottles of their best – the Kramer exhibition was set up. Le Roux had initially thought of naming the exhibition "Celebrating the Farm Labourer", but changed the title after talking to Botha.
"Amanda pointed out that they have little to celebrate, that they live under very difficult conditions and that one must rather honour their survival in such circumstances," she said.
"I tried to capture the kind of people who have a character and soul that have been shaped by the landscape and years and years of poverty," explained Botha.
"These are people with character and determination."
---
This work is licensed under a Creative Commons Attribution-NoDerivatives 4.0 International License.
Please view the republishing articles page for more information.
---